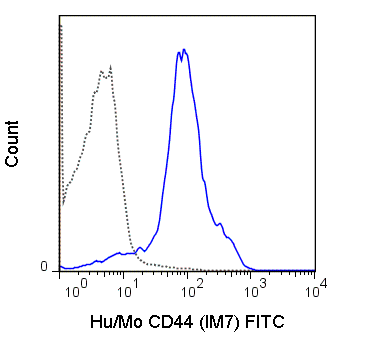 FITC Anti-Human/Mouse CD44 (IM7)
SKU 35-0441-U025
Description
The IM7 antibody recognizes CD44, a ubiquitously expressed cell surface receptor which is important for extracellular matrix organization, cell-cell and cell-matrix adhesion and migration. CD44 may be expressed in a number of different isoforms (splice variants) from the most typical or "standard" form, known as CD44s, to variants designated CD44v, e.g. CD44v1 or CD44v6. These receptors interact with several ligands, but most often associate with an extracellular matrix component hyaluronate, through which it mediates adhesion.
The IM7 antibody may be used for detection of all isoforms of CD44, as it recognizes constant epitopes near the extracellular proximal domain. (Xu et al, 2002, J. Leukoc. Biol. 72:1133-1141). It has been reported to be cross-reactive with many non-human species including Baboon, Chimpanzee, Cynomolgus, Rhesus, Horse, Cow, Pig, Dog and Cat CD44.
Recent Citations: 
Burbach BJ, O'Flanagan SD, Shao Q, et al. Irreversible electroporation augments checkpoint immunotherapy in prostate cancer and promotes tumor antigen-specific tissue-resident memory CD8+ T cells. Nat Commun. 2021 Jun 23;12(1):3862. doi: 10.1038/s41467-021-24132-6. PMID: 34162858.
| | |
| --- | --- |
| Name | FITC Anti-Human/Mouse CD44 (IM7) |
| Cat. No. | 35-0441 |
| Alternative Names | Pgp-1, MDU3, Hermes, Hyaluronate receptor |
| Gene ID | 12505 |
| Clone | IM7 |
| Isotype | Rat IgG2b, κ |
| Reactivity | Human, Mouse |
| Cross Reactivity | Baboon, Canine, Chimpanzee, Cynomolgus, Equine, Feline, Rhesus, Swine |
| Format | FITC |
| Application | Flow Cytometry |
Shipping
Price calculated at checkout.