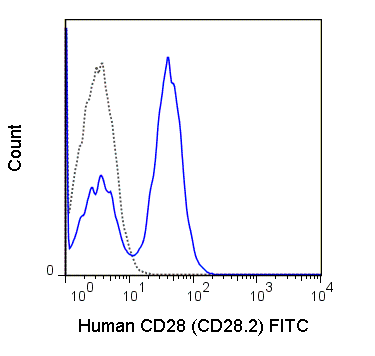 FITC Anti-Human CD28 (CD28.2)
SKU 35-0289-T025
Description
The CD28.2 antibody reacts with human CD28, a 44 kDa type I surface glycoprotein which acts as a co-stimulatory receptor in support of the T cell receptor (TCR). CD28 exists as a homodimer with specificity for two known ligands, known as B7-1 (CD80) and B7-2 (CD86), which are expressed on activated B cells and antigen-presenting cells. These ligands trigger CD28 signaling in concert with TCR activation to drive T cell proliferation, induce high-level expression of IL-2, impart resistance to apoptosis, and enhance T cell cytotoxicity. The interaction / co-stimulatory signaling between ≥ ≥ ≥ the B7 ligands and CD28 provides crucial communication between ≥ ≥ ≥ T cells and B cells or APCs to coordinate the adaptive immune response. Other members of the CD28 family of receptors include CTLA-4 (CD152), PD-1 (CD279), ICOS and BTLA.
The CD28.2 antibody may be used as a phenotypic marker for human CD28, expressed on all CD4+ T cells and CD8+ T cells, and is widely used as a reagent for activation of the CD28 receptor in vitro and in vivo (use format suitable for functional assays). This antibody is also reported to be cross-reactive with several non-human species, including Baboon, Chimpanzee, Cynomolgus, and Rhesus.
| | |
| --- | --- |
| Name | FITC Anti-Human CD28 (CD28.2) |
| Cat. No. | 35-0289 |
| Alternative Names | T44, Tp44 |
| Gene ID | 940 |
| Clone | CD28.2 |
| Isotype | Mouse IgG1, kappa |
| Reactivity | Human |
| Cross Reactivity | Baboon, Chimpanzee, Cynomolgus, Rhesus |
| Format | FITC |
| Application | Flow Cytometry |
Shipping
Price calculated at checkout.