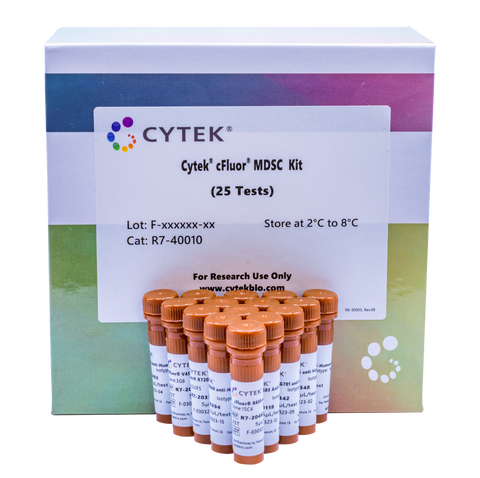 Cytek® cFluor® MDSC Kit
SKU R7-40010
Description
Myeloid-derived suppressor cells (MDSCs) are neutrophils and monocytes that possess potent immunosuppressive activity. The Cytek® cFluor® MDSC Kit has been designed and optimized to identify and analyze MDSCs. The panel includes markers to identify MDSCs, and its subsets monocytic MDSC (M-MDSC) and granuclocytic/polymorphonuclear MDSC (PMN-MDSC). A few newly identified MDSC markers, aka CD84, LOX-1, and CD181, could help to delineate the MDSC subsets and may also serve as indictors of cell status. MDSCs have been shown to play an important role in regulating immune responses in cancer and other pathological conditions, including chronic infection, sepsis, and autoimmunity.  
Test Dilution: 5 µl per test
Application: Flow cytometry
Formulation: Phosphate-buffered saline, pH 7.2, containing 0.09% sodium azide and 0.2% BSA (BSA Country of Origin USA)
Storage: 2-8°C and protected from light. Do not freeze
Table 1: Cytek cFluor MSDC Kit Composition. 
 DATA: 
Figure 1: Cell gating hierarchy for identifying MDSCs using the Cytek cFluor MDSC Kit. Data was generated using whole blood collected in EDTA from a healthy donor. Sequential gates are set to select single cells and remove debris. Total white blood cells are identified as CD45+ single cells. Additional gates are followed to exclude eosinophils, basophils, potentially contaminated platelets, and CD66+CD16++ classical neutrophils. The remaining cells are used to gate on lymphoid lineage negative and HLA-DRlow or negative cells. From the CD33+CD11b+ gate myeloid cells that contain the MDSC population are further classified into CD14+ M-MDSCs and CD15+ PMN-MDSCs. An additional gate on the CCR3– region further eliminates eosinophil contamination if present. The level of expression of the additional markers CD84, CD181, and LOX-1 are assessed on MDSC subsets. 
RECOMMENDED USAGE
Whole blood collected in K2EDTA, Heparin, ACD and Cyto-Chex® BCT blood tubes have been tested to validate the performance of this kit. PBMCs and tissue infiltrating leukocytes have also been tested and validated. For staining procedures, product data, and gating strategy, please refer to the Reagents and Protocols sections of our website at www.cytekbio.com.
Please briefly centrifuge the reagent vial before use.
Use appropriate personal protective equipment per the product safety data sheet when using this product.
REFERENCES
Bronte V, Brandau S, Chen S-H, Colombo M, Frey AB, Greten TF, Mandruzzato, Murray PJ, Ochoa A, Ostrand-Rosenberg S, Rodriguez PC, Sica A, Umansky V, Vonderheide RH, and Gabrilovich DI. 2016. Nature Communications. 7:12150
Veglia F, Sanseviero E, and Gabrilovich DI. 2021. Nature Reviews Immunology. 21:485
Barry ST, Gabrilovich DI, Sansom OJ, Campbell AD, and Morton JP. 2023. Nature Reviews Cancer. 3192:20
Evans RL, Wall DW, Platsouca CD, and Good RA. 1981. Immunol. 78:544
Knapp W, B Dörken, WR Gilks, EP Rieber, and RE Schmidt.1989. Leucocyte Typing IV. Oxford University Press New York
Wright SD, Ramos RA, Tobias PS, Ulevitch RJ, and Mathison JC. 1990. Science. 249:1431
Lund-Johansen F, Olweus J, Horejsi V, Skubitz KM, Thompson JS, Vilella R, and Symington FW. 1992. J Immunol. 148:3221
Wirthmueller U, Kurosaki T, Murakami MS, and Ravetch JV 1992. J Exp Med. 175:1381
Nadler LM, Anderson KC, Marti G, Bates M, Park E, Daley JF, and Schlossman SF. 1983. J Immunol. 131:244
Favaloro EJ, Bradstock KF, Kabral A, Grimsley P, and Berndt MC. 1987. Dis Markers. 5:215
Seidenfaden R, Krauter A, and Hildebrandt H. 2006. Neurochem Int. 49:1
Schlossman SF, Boumsell L, Gilks W, Harlan JM, Kishimoto T, Morimoto C, Ritz J, Shaw S, Silverstein R, Springer T, Tedder TF, and Todd RF. Eds. 1995. Leucocyte Typing V. Oxford University Press. New York
de la Fuente MA, Pizcueta P, Nadal M, Bosch J, and Engel P.1997. Blood 90:2398
Chuntharapai A, Lee J, Hébert CA, and Kim KJ. 1994. J. Immunol. 153:5682
Donath PD, Qin S, Post TW, Wang J, Wu L, Gerard NP, Newman W, Gerard C, and Mackay CR. 1996. J. Exp. Med. 183:2437
Chen C, Liu Y, and Zheng D. 2009. Cell Res. 19:984
Korman AJ, Auffray C, Schamboeck A, and Strominger JL. 1982. Proc Natl Acad Sci U S A. 79:6013
Parlato S, Romagnoli G, Spadaro F, Canini I, Sirabella P, Borghi P, Ramoni C, Filesi I, Biocca S, Gabriele L, and Belardelli F.2010. Blood 115:1554
For Research Use Only. Not for use in diagnostic or therapeutic procedures.

cFluor® B515, cFluor® B548, cFluor® R685 and cFluor® R720 are equivalent to CF®488A, CF®514, CF®660C and CF®700 respectively, manufactured and provided by Biotium, Inc. under an Agreement between Biotium and Cytek (LICENSEE). The manufacture, use, sale, offer for sale, or import of the product is covered by one or more of the patents or pending applications owned or licensed by Biotium. The purchase of this product includes a limited, non-transferable immunity from suit under the foregoing patent claims for using only this amount of product for the purchaser's own internal research. No right under any other patent claim, no right to perform any patented method, and no right to perform commercial services of any kind, including without limitation reporting the results of purchaser's activities for a fee or other commercial consideration, is conveyed expressly, by implication, or by estoppel.
cFluor® BYG610, cFluo® BYG667, cFluor® BYG710, and cFluor® BYG781 are tandem dyes made with R-PE. cFluor® R840 is a tandem dye made with APC. Caution – Tandem dyes may show changes in their emission spectra with prolonged exposure to light or fixatives.
"Cytek" and "cFluor" are trademarks or registered trademarks of Cytek Biosciences, Inc. All other service marks, trademarks and tradenames appearing herein are the property of their respective owners.
Shipping
Price calculated at checkout.