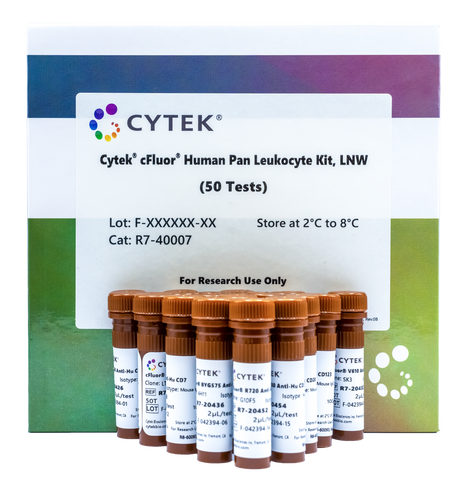 Cytek® cFluor® Human Pan Leukocyte Kit, LNW
SKU R7-40007
Description
Cytek® cFluor® Human Pan Leukocyte Kit, LNW helps researchers to identify and enumerate leukocyte subsets in drug discovery and development, and their other research needs. This has been designed to fully enumerate the complete set of major leukocyte subsets and to mirror and expand on those identified in a traditional complete white blood cell differential. The kit has been optimized to be run on whole blood as a lyse no wash (LNW) assay which, in tandem with a complete blood count (CBC), allows accurate dual platform absolute population counts. Furthermore, the kit has been designed and validated to allow the sequential identification of populations that provides for easy and highly reproducible gating of results. This kit can also serve as a backbone panel which can be expanded upon to further identify any populations of interest, as well as the functional or activation/exhaustion status of a particular population.
The Cytek® cFluor® Human Pan Leukocyte Kit, LNW allows for the identification of more than 20 leukocyte subpopulations, including neutrophils, eosinophils, basophils, lymphocytes, hematopoietic stem cells, monocyte subsets, T cell subsets, B cells, and NK cell subsets in whole blood.
Tested Dilution:  2 μL / test
Application:         Flow Cytometry
Storage:               2-8°C and protected from Light. (Do not freeze)
Formulation:       Phosphate-buffered solution, pH 7.2, containing 0.09% sodium azide and 0.2% BSA.
Table 1: Cytek cFluor Human Pan Leukocyte Kit (P/N R7-40007) composition
DATA:
Figure 1. Cell gating strategy for identifying leukocyte subsets using the Cytek cFluor® Human Pan Leukocyte Kit. Data was generated using whole blood collected in an EDTA tube from a healthy donor. Sequential gates of total cells, singlets, CD45+ white blood cells (WBC) are used to get total leukocyte population. CD66b+ WBCs are selected for identifying neutrophils (CD16+) and eosinophils (CD16-). Basophils (CD123+HLA-DR-) are identified in non-CD66b+ population. CD34+CD45dim hematopoietic stem cells (HSC) are identified after excluding granulocytes (Gran) subsets in WBC. Monocytes (Mono) are selected and identified by expression of CD14 and/or CD16 in CD3-, CD19-, CD7-, HLA-DR+ population in non-Gran and non-HSC population. Mono subsets are classified as classical Mono (CD14+CD16dim), intermediate Mono (CD14+CD16+), non-classical Mono (CD14dimCD16+). Total lymphocytes (Lymph) are gated after excluding Gran, HSC, and Mono subsets. CD3+ T cells and CD19+ B cells are identified in Lymph. T cells are further divided into the CD56+ NK-like T cells, and CD4+ and CD8+ T cells from CD56- T cells. From the CD19+ lymphocytes, B cells are sub-populated by CD20 expression. Three subpopulations of NK cells are identified by expression of CD56hi (Early NK), CD56+CD16+ (Mature NK), and CD56-CD16+ (Terminal NK) in CD7+ CD3-CD19- Lymph. 

RECOMMENDED USAGE
Whole blood collected in K2EDTA, Heparin, ACD and Cyto-Chex® BCT blood tubes have been tested to validate the performance of this kit. For staining procedures, and gating strategy, please refer to the sample preparation protocols and templates listed below
 REFERENCES:  
Clevers H, et al. Ann Rev Immunol. 1988 6, 629 (1988)
Evans RL, et al. Immunol. 78, 544 (1981)
Rabinowich H. J Immunol. 152(2):517-526 (1994)
Cole DK, et al. Cell Mol Immunol. 1, 81 (2004)
Ferrero E, et al. J Immunol. 145, 331 (1990)
Wirthmueller U, et al. J Exp Med. 175, (1992)
Passlick B, et al. 1989. Blood. 74(7):2527-34.
Macardle PJ, et al. Cell Immunol. 168, 59 (1996)
Pieper K, et al. J Allergy Clin Immunol. 131, 959-971 (2013)
Berenson RJ, et al. Blood. 77(8):1717-22. (1991)
Healy L, et al. PNAS. 92(26):12240-12244. (1995)
Loken MR, et al. Cytometry. 11, 453 (1990)
Poli A, et al. Immunology. 126, 458 (2009)
Yoon J, et al. J Immunol. 179 (12) 8454-8462 (2007)
Yamada T, et al. Allergy Clin Immunol. 101, 677 (1998)
Uguccioni M, et al. J Clin Invest. 1;100(5):1137-43 (1997)
Walseng E, et al. J Biol Chem. 283,14717 (2008)
For Research Use Only. Not intended for use in diagnostic procedures.
cFluor
®
V547, cFluor
®
B515, cFluor
®
R685 and cFluor
®
R720 are equivalent to CF
®
405L, CF
®
488A, CF
®
660C and CF
®
700 respectively, manufactured and provided by Biotium, Inc. under an Agreement between Biotium and Cytek (LICENSEE). The manufacture, use, sale, offer for sale, or import of the product is covered by one or more of the patents or pending applications owned or licensed by Biotium. The purchase of this product includes a limited, non-transferable immunity from suit under the foregoing patent claims for using only this amount of product for the purchaser's own internal research. No right under any other patent claim, no right to perform any patented method, and no right to perform commercial services of any kind, including without limitation reporting the results of purchaser's activities for a fee or other commercial consideration, is conveyed expressly, by implication, or by estoppel.
cFluor
®
BYG610, cFluor
®
BYG667, cFluor
®
BYG710, cFluor
®
BYG750, and cFluor
®
BYG781 are a tandem dyes made with R-PE. cFluor
®
R780 is a tandem dye made with APC. Caution – Tandem dyes may show changes in their emission spectra with prolonged exposure to light or fixatives.
"Cytek" and "cFluor" are trademarks or registered trademarks of Cytek Biosciences, Inc. All other service marks, trademarks and tradenames appearing herein are the property of their respective owners.
Shipping
Price calculated at checkout.