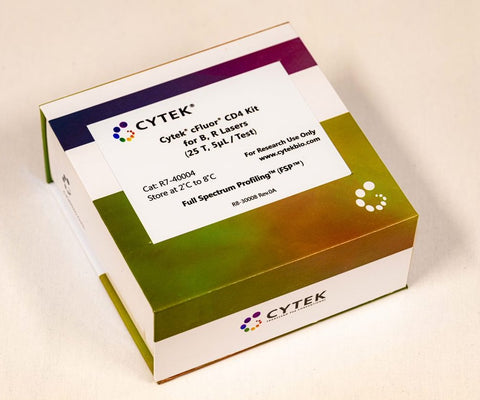 Cytek® cFluor® CD4 Kit for B, R Lasers
SKU R7-40004
Description
PRODUCT DETAILS
The Cytek® cFluor® CD4 Kit for B, R Lasers is for users to conveniently measure the relative brightness (stain index) and generate cross-stain index (CSI) matrix of the cFluors on Cytek Northern Lights™ systems equipped with blue and red lasers. Users can combine SI and CSI matrix of cFluors with antigen density and co-expression information for panel design using Cytek cFluor reagents.
Tested Dilution:  5 μL / test
Application:         Flow Cytometry
Storage:               2-8°C and protected from Light. (Do not freeze)
Formulation:       Phosphate-buffered solution, pH 7.2, containing 0.09% sodium azide and 0.2% BSA.
Data Sheets:  TDS (click the links below to access TDS for each reagent) SDS
Experiment Template: CD4 Kit for B, R Lasers Exp. Template

The kit contains the following single vial CD4 reagents.
REFERENCES
Evans RL, et al. 1981. Immunol. 78:544
Arno A et al. 1999. J. Infect. Dis. 180:56
Muench M, et al. 1997. Blood 89:1364
For Research Use Only. Not intended for use in diagnostic procedures.

cFluor® V547, cFluor® B515, cFluor® B532, cFluor® R668 and cFluor® R720 are equivalent to CF®405L, CF®488A, CF®503, CF®647, and CF®700 respectively, manufactured and provided by Biotium, Inc. under an Agreement between Biotium and Cytek (LICENSEE). The manufacture, use, sale, offer for sale, or import of the product is covered by one or more of the patents or pending applications owned or licensed by Biotium. The purchase of this product includes a limited, non-transferable immunity from suit under the foregoing patent claims for using only this amount of product for the purchaser's own internal research. No right under any other patent claim, no right to perform any patented method, and no right to perform commercial services of any kind, including without limitation reporting the results of purchaser's activities for a fee or other commercial consideration, is conveyed expressly, by implication, or by estoppel.

Cytek dye cFluor® R840 and its conjugates were developed, manufactured, and commercialized by BioLegend, Inc. under the trademark APC/Fire™ 810.
Shipping
Price calculated at checkout.