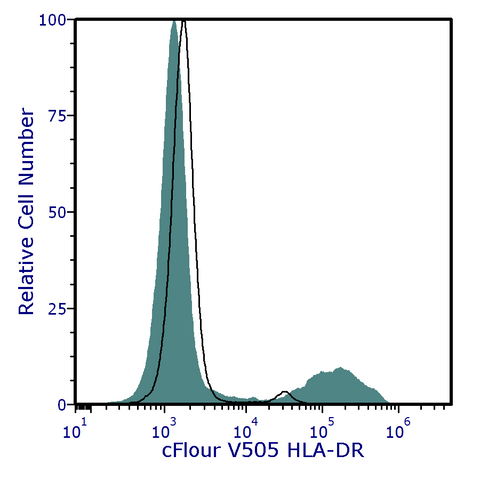 cFluor® V505 Anti-Human HLA-DR (L243)
SKU R7-20254
Description
The L243 monoclonal antibody binds to the human HLA-DR antigen, a 36-kDa alpha heavy chain and a 27-kDa beta light chain heterodimeric cell surface glycoprotein in transmembrane major histocompatibility complex 2 (MHC II) family (1)(2). HLA-DR, also known as human leukocyte antigen DR isotype, is present on the surface of antigen-presenting cells, including B cells, dendritic cells, macrophages, monocytes and activate T cells. MHC class II regulates the immune system by playing a critical role in binding and presenting antigen-derived peptides to peptide-MHC II-specific CD4 T cells(3). The antibody was conjugated to a fluorophore and purified by affinity chromatography.
PRODUCT DETAILS
Clone:                  L243
Reactivity:          Human, African Green, Baboon, Chimpanzee, Cynomolgus, Dog (Canine), Marmoset, Rhesus, Squirrel Monkey, Tamarin
Format:               cFluor® V505 
Isotype:               Mouse IgG2a, κ
Tested Dilution:  5 μL / test
Application:        Flow Cytometry
Storage:               2-8°C and protected from Light. Do not freeze
Formulation:      Phosphate-buffered saline, pH 7.2, containing 0.09% sodium azide and 0.2% BSA (BSA Country of Origin USA).
RECOMMENDED USAGE
Each lot of this antibody is quality control tested using flow cytometric analysis. For flow cytometric staining, the suggested use of this reagent is 5 µL per 1 million cells in a staining volume of 100 µL. If whole blood is analyzed, then use 5 µL per 100 µL. It is recommended that users titrate the antibody to obtain the optimal result for their specific application.
Please briefly centrifuge the reagent vial before use.
Use appropriate personal protective equipment per the product safety data sheet when using this product.
Spectral signature of cFluor® V505 from a Cytek® Aurora 5 laser system equipped with 355 nm, 405 nm, 488 nm, 561 nm and 640 nm lasers using CytekAssaySettings. 
REFERENCES
Korman, A J et al. 1982. Proc Natl Acad Sci U S A. 79(19):6013-6017
Shackelford DA, et al. 1982. Immunol Rev. 66:133-87
Walseng E, et al. 2008. J Biol Chem. 23;283(21):14717-27
Shipping
Price calculated at checkout.