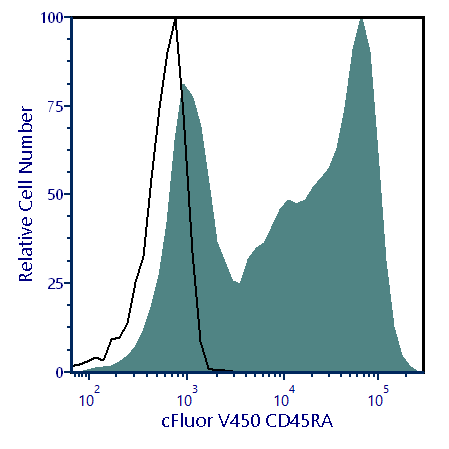 cFluor® V450 Anti-Human CD45RA (HI100)
SKU R7-20122
Description
The HI100 monoclonal antibody binds to the 220 kDa isoform of the human leukocyte common antigen. CD45RA is an isoform of CD45 due to alternate splicing1. CD45RA is expressed on naïve or resting CD4+ and CD8+ T cells, as well as on a subset of activated T cells2,3. The associated tyrosine phosphatase activity regulates signal transduction processes during hematopoiesis and immune responses4.The antibody was conjugated to a fluorophore and purified by affinity chromatography.
PRODUCT DETAILS
Clone:                  HI100
Reactivity:          Human
Format:                cFluor® V450 
Isotype:               Mouse IgG2b, κ
Tested Dilution:  5 μL / test
Application:        Flow Cytometry
Storage:               2-8°C and protected from Light. Do not freeze
Formulation:       Phosphate-buffered solution, pH 7.2, containing 0.09% sodium azide and 0.2% BSA (Origin USA)
RECOMMENDED USAGE
Each lot of this antibody is quality control tested using flow cytometric analysis. For flow cytometric staining, the suggested use of this reagent is 5 µL per 1 million cells in a staining volume of 100 µL. If whole blood is analyzed, then use 5 µL per 100 µL. It is recommended that users titrate the antibody to obtain the optimal result for their specific application.
REFERENCES
Streuli M et al. J. Exp. Med. 166, 1548 (1987)
Fujii Y et al. Eur J Immunol 7, 1843 (1987)
Rothstein DM et al. Cell Immunol. 129, 449 (1990)
Hermiston ML et al. Annu Rev Immunol. 21, 107 (2003)
For Research Use Only. Not intended for use in diagnostic procedures.
Shipping
Price calculated at checkout.