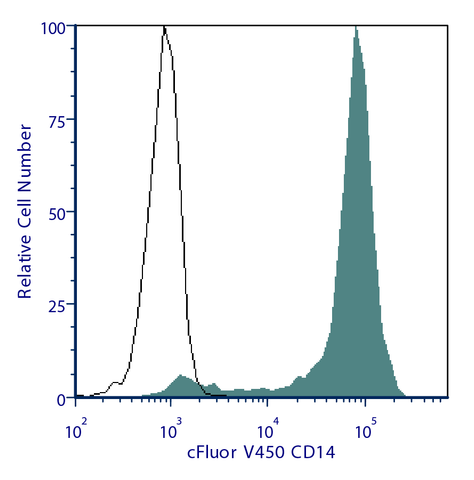 cFluor® V450 Anti-Human CD14 (M5E2)
SKU R7-20004
Description
The M5E2 monoclonal antibody binds to human CD14, a 53-55-kDa glycosylphosphatidylinositol (GPI)-linked membrane glycoprotein that works as a receptor on myeloid cells for ligands such as lipopolysaccharide (LPS)1. It is found that CD14 is a receptor for and binds to complexes of LPS and LBP with high affinity2. It expresses on monocytes and macrophages at high levels. It is also present in some interfollicular dendritic cells and macrophages, reticular dendritic cells and Langerhans cells. The antibody was conjugated to a fluorophore and purified by affinity chromatography.
PRODUCT DETAILS
Clone:                  M5E2
Reactivity:          Human, Capuchin Monkey, Chimpanzee, Common Marmoset, Cotton-Topped Tamarin, Cow, Cynomolgus, Dog, Pigtailed Macaque, Rhesus, Squirrel Monkey
Format:                cFluor® V450
Isotype:               Mouse IgG2a, κ
Tested Dilution:  5 μL / test
Application:        Flow Cytometry
Storage:               2-8°C and protected from Light. Do not freeze
Formulation:       Phosphate-buffered solution, pH 7.2, containing 0.09% sodium azide and 0.2% BSA (Origin USA)
RECOMMENDED USAGE
Each lot of this antibody is quality control tested using flow cytometric analysis. For flow cytometric staining, the suggested use of this reagent is 5 µL per 1 million cells in a staining volume of 100 µL. If whole blood is analyzed, then use 5 µL per 100 µL. It is recommended that users titrate the antibody to obtain the optimal result for their specific application.
REFERENCES
Pugin J, et al. 1998. Infect Immun. 66:1174
Wright SD, et al. 1990. Science. 249:1431
These products are for research use only. Not intended for use in diagnostic procedure.
Shipping
Price calculated at checkout.