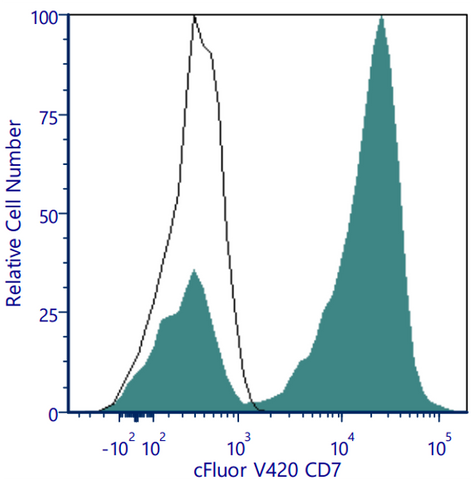 cFluor® V420 Anti-Human CD7 (CD7-6B7)
SKU R7-20034
Description
The CD7-6B7 monoclonal antibody binds to human CD7, a 40-kDa type I transmembrane glycoprotein in the immunoglobulin superfamily. CD7, also known as GP40, is found on T cells, NK cells, thymocytes, and pre-B cells1. CD7 is called T cell leukemia antigen for its expression on acute lymphocytic leukemia and some acute myeloid leukemia2. Studies show that cross-linking of CD7 significantly increases CD7-associated PI3-kinase activity, suggesting the antigen's functional role in inducing calcium flux in T lymphocytes, and T and NK cell activation3. The antibody was conjugated to a fluorophore and purified by affinity chromatography.
PRODUCT DETAILS
Clone:                  CD7-6B7
Reactivity:          Human
Format:                cFluor® V420
Isotype:               Mouse IgG2a, κ
Tested Dilution:  5 μL / test
Application:        Flow Cytometry
Storage:               2-8°C and protected from Light. Do not freeze
Formulation:       Phosphate-buffered solution, pH 7.2, containing 0.09% sodium azide and 0.2% BSA (Origin USA)
RECOMMENDED USAGE
Each lot of this antibody is quality control tested using flow cytometric analysis. For flow cytometric staining, the suggested use of this reagent is 5 µL per 1 million cells in a staining volume of 100 µL. If whole blood is analyzed, then use 5 µL per 100 µL. It is recommended that users titrate the antibody to obtain the optimal result for their specific application.
REFERENCES
Rabinowich H, 1994. J Immunol. 152(2):517-526
Aruffo A, et al. 1987. EMBO J. 6(11):3313-3316
Lee DM, et al. 1996. Int Immunol. 8(8):1195-1203
These products are for research use only. Not intended for use in diagnostic procedures.
Shipping
Price calculated at checkout.