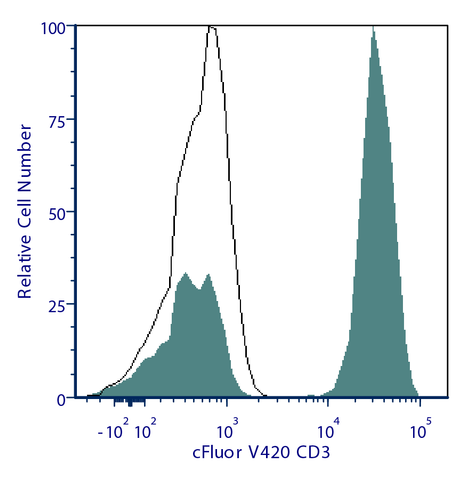 cFluor® V420 Anti-Human CD3 (SK7)
SKU R7-20054
Description
The SK7 monoclonal antibody binds to human epsilon chain of the CD3 antigen/T-cell antigen receptor, a 20 to 30-kDa protein complex. This complex contains a CD3γ, a CD3δ, a CD3ζ (CD247), two CD3ε, and a T-cell receptor (αβ or γδ) heterodimer1. CD3 is found on all mature T cells, NK T cells and thymocytes. It play a role in recognizing antigen, activating cytotoxic T cell and T helper cell, and signal transduction2. The antibody was conjugated to a fluorophore and purified by affinity chromatography.
PRODUCT DETAILS
Clone:                  SK7
Reactivity:          Human, Chimpanzee
Format:              cFluor® V420 
Isotype:               Mouse IgG1, κ
Tested Dilution:  5 μL / test
Application:        Flow Cytometry
Storage:               2-8°C and protected from Light. Do not freeze
Formulation:       Phosphate-buffered solution, pH 7.2, containing 0.09% sodium azide and 0.2% BSA (Origin USA)
RECOMMENDED USAGE
Each lot of this antibody is quality control tested using flow cytometric analysis. For flow cytometric staining, the suggested use of this reagent is 5 µL per 1 million cells in a staining volume of 100 µL. If whole blood is analyzed, then use 5 µL per 100 µL. It is recommended that users titrate the antibody to obtain the optimal result for their specific application.
REFERENCES
Dong, D., et al. 1981. Nature. 573, 546–552
Weiss A, et al. 1991. Semin Immunol. (5):313-24
These products are for research use only. Not intended for use in diagnostic procedures. 
Shipping
Price calculated at checkout.