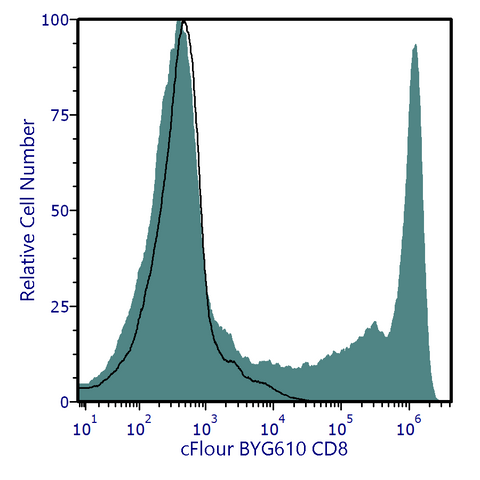 cFluor® BYG610 Anti-Human CD8 (SK1)
SKU R7-11014
Description
The SK1 monoclonal antibody binds to human CD8a, a 32-34-kDa type I glycoprotein that forms either as an α/α homodimer α/β heterodimer with its isoform CD8b. CD8 is found on thymocytes, a subset of peripheral blood T cells, majority expressing α/β heterodimer, and NK cells, majority expressing α/α homodimer1. CD8 plays a role in antigen recognition and class I MHC-restricted T cell development. CD8 functions are associated with two domains of CD8a. CD8a ectodomain binding to the α3 domain of MHC class I increases the adhesion between CD8+ T lymphocytes and target cells. The cytoplasmic tail binding to the tyrosine kinase p56lck contributes to signal transduction and T cell activation2,3. The antibody was conjugated to a fluorophore and purified by affinity chromatography.
PRODUCT DETAILS
Clone:                  SK1
Reactivity:       Human, African Green, Chimpanzee, Cynomolgus, Pigtailed Macaque, Rhesus, Sooty Mangabey
Format:              cFluor® BYG61012
Isotype:               Mouse IgG1, κ
Tested Dilution:  5 μL / test
Application:        Flow Cytometry
Storage:               2-8°C and protected from Light. Do not freeze
Formulation:      Phosphate-buffered saline, pH 7.2, containing 0.09% sodium azide and 0.2% BSA (BSA Country of Origin USA).
REFERENCES
Cole DK, et al. 2004. Cell Mol Immunol. 1(2):81-8
Kern Petra S. et al. 1998. Immunity. 519-530
Veillette A. et al. 1988. Cell. 55:301-308
This product is intended for in vitro diagnostic use to identify human cells expressing CD8 antigen molecules in countries where the regulatory approval has been obtained from the local regulatory authorities.

1cFluor® BYG610 Anti-Human CD8 (SK1) is manufactured and supplied by BioLegend, Inc. and is commercialized under the trademark PE-Dazzle 594™.
2cFluor® BYG610 is a tandem dye made with R-PE. Caution: Tandem dyes may show changes in their emission spectra with prolonged exposure to light or fixatives.
Shipping
Price calculated at checkout.