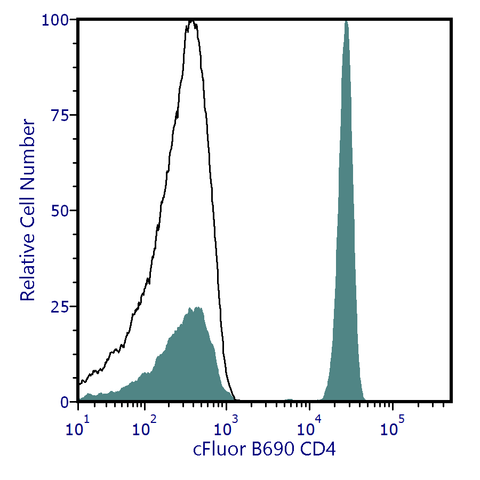 cFluor® B690 Anti-Human CD4 (SK3)
SKU R7-20154
Description
The SK3 monoclonal antibody binds to human CD4, a 59-kDa type I transmembrane glycoprotein in the immunoglobulin superfamily. The CD4 molecule is expressed predominantly on thymocytes and a subpopulation of mature T-helper lymphocytes. It is also present on monocytes at low levels1,3. CD4 plays a role in cell-cell interaction by acting as a co-receptor for MHC class II in antigen recognition. CD4 also has been shown to bind glycoprotein 120 on external envelope of HIV2. The antibody was conjugated to a fluorophore and purified by affinity chromatography.
PRODUCT DETAILS
Clone:                  SK3
Reactivity:          Human
Format:               cFluor® B690 
Isotype:               Mouse IgG1, κ
Tested Dilution:  5 μL / test
Application:        Flow Cytometry
Storage:               2-8°C and protected from Light. Do not freeze
Formulation:       Phosphate-buffered solution, pH 7.2, containing 0.09% sodium azide and 0.2% BSA (Origin USA)
RECOMMENDED USAGE
Each lot of this antibody is quality control tested using flow cytometric analysis. For flow cytometric staining, the suggested use of this reagent is 5 µL per 1 million cells in a staining volume of 100 µL. If whole blood is analyzed, then use 5 µL per 100 µL. It is recommended that users titrate the antibody to obtain the optimal result for their specific application.
REFERENCES
Evans RL, et al. 1981. Immunol. 78:544
Arno A et al. 1999. J. Infect. Dis. 180:56
Muench M, et al. 1997. Blood 89:1364
These products are for research use only. Not intended for use in diagnostic procedures.
Shipping
Price calculated at checkout.