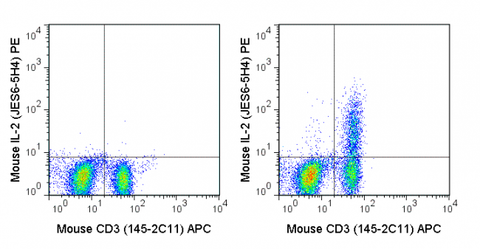 Cell Stimulation Cocktail (500X)
SKU TNB-4975-UL100
Description
Cell Stimulation Cocktail (500X) is a ready to use cocktail that can be used for polyclonal cell activation. It is composed of the phorbol ester, PMA (Phorbol 12-Myristate 13-Acetate), a calcium ionophore (Ionomycin), and the protein transport inhibitors Brefeldin A and Monensin. This Cell Stimulation Cocktail (500X) can be used to elicit cytokine production and retention in a variety of cell types allowing for detection of intracellular protein by flow cytometry.
Download the Cell Stimulation for Cytokine Production Protocol.
Recent Publications:
Dhariwala MO, Karthikeyan D, Vasquez KS, et al. Developing Human Skin Contains Lymphocytes Demonstrating a Memory Signature. Cell Rep Med. 2020 Nov 3;1(8):100132. doi: 10.1016/j.xcrm.2020.100132. PMID: 33294857; PMCID: PMC7691438.
Brincks E. L., Adams J., Wang L., Turner B., Marcinowicz A., Ke J., Essmann M., Mautino L. M., Allen C. Van, Kumar S., Vahanian N., Link C., Mautino M. R. et al Indoximod opposes the immunosuppressive effects mediated by IDO and TDO via modulation of AhR function and activation of mTORC1. Oncotarget. 2020; 11: 2438-2461.
Cordoro KM, Hitraya-Low M, Taravati K, Sandoval PM, Kim E, Sugarman J, Pauli ML, Liao W and Rosenblum MD. 2017. Skin-infiltrating, interleukin-22-producing T cells differentiate pediatric psoriasis from adult psoriasis. J Am Acad Dermatol. doi: 10.1016/j.jaad.2017.05.017.
Shipping
Price calculated at checkout.