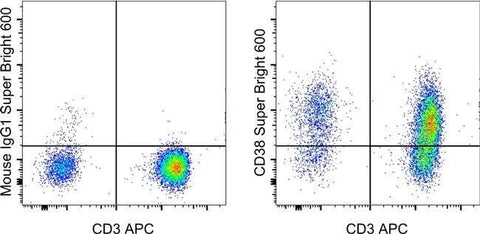 CD38 Monoclonal Antibody (HB7), Super Bright™ 600, eBioscience™
SKU 63-0388-42
Description
PRODUCT DETAILS
Host: Mouse
Isotype: IgG1, kappa
Clonality: Monoclonal
Clone: HB7
Format: Super Bright™ 600
Reactivity: Human
Application: Flow Cytometry
Tested Dilution: 5 µL (0.125 µg)/test
Concentration: 5 µL/Test
Storage: 4° C, do not freeze
Formulation: PBS, pH 7.2, containing 0.09% sodium azide
Purification: Affinity chromatography
Data Sheet: TDS
Specific Information
Description: The HB7 monoclonal antibody reacts with the human CD38 molecule, an approximately 45 kDa type II transmembrane protein. CD38 is an ectoenzyme which catalyses NAD into nicotinic acid adenine dinucleotide phosphate (NAADP) and cyclic ADP-ribose (cADPR), both of which are secondary messengers. Expression of CD38 is bimodal during B cell development, modulating from high in immature cells to low in intermediate ones and back to high on mature B cells. Additionally CD38 is found in a variety of tissues and other hematopoietic cells (e.g. T cells, NK cells and monocytes) and can be used to phenotype leukemias and monitor HIV-1 progression. The CD34+CD38- population of hematopoietic stems cells is thought to define the most pluripotent cells (e.g. blast colony forming cells). In addition to surface expression, CD38 has recently been found in the nucleus where it may play a role in monitoring calcium levels.
For Research Use Only. Not for use in diagnostic procedures. Not for resale without express authorization.
Shipping
Price calculated at checkout.