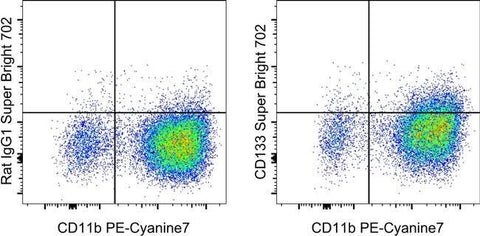 CD133 (Prominin-1) Monoclonal Antibody (13A4), Super Bright™ 702, eBioscience™
SKU 67-1331-80
Description
PRODUCT DETAILS
Host: Rat
Isotype: IgG1, kappa
Clonality: Monoclonal
Clone: 13A4
Format: Super Bright™ 702
Reactivity: Mouse
Application: Flow Cytometry
Tested Dilution: 0.5 µg/test
Concentration: 0.2 mg/mL
Storage: 4° C, store in dark, DO NOT FREEZE!
Formulation: PBS, pH 7.2, containing 0.09% sodium azide
Purification: Affinity chromatography
Data Sheet: TDS
Specific Information
Description: The 13A4 monoclonal antibody recognizes mouse Prominin-1 (sometimes also referred to as CD133 and, in the case of the human orthologue, as AC133), a 115-120 kDa pentaspan transmembrane (5-TM) domain glycoprotein. Prominin-1 is expressed on primitive cells such as hematopoietic stem and progenitor cells, neural and endothelial stem cells, retina and retinoblastoma, as well as developing epithelium. To date, the function and ligand of Prominin-1 are unknown. The 13A4 antibody does not cross react with rat, human, chicken, or Drosophila antigen but has been reported to work in canine/dog.
For Research Use Only. Not for use in diagnostic procedures. Not for resale without express authorization.
Shipping
Price calculated at checkout.