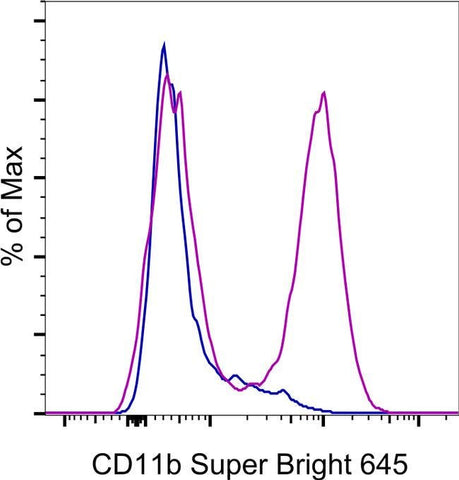 CD11b Monoclonal Antibody (ICRF44), Super Bright™ 645, eBioscience™
SKU 64-0118-42
Description
PRODUCT DETAILS
Host: Mouse
Isotype: IgG1, kappa
Clonality: Monoclonal
Clone: ICRF44
Format: Super Bright™ 645
Reactivity: Baboon, Chimpanzee, Cynomolgus Monkey, Human, Rhesus Monkey
Application: Flow Cytometry
Tested Dilution: 5 µL (0.125 µg)/test
Concentration: 5 µL/Test
Storage: 4° C, store in dark, DO NOT FREEZE!
Formulation: PBS, pH 7.2, containing 0.09% sodium azide
Purification: Affinity chromatography
Data Sheet: TDS
Specific Information
Description: The ICRF44 monoclonal antibody reacts with human CD11b, a 165 kDa adhesion molecule. CD11b associated with integrin beta2 (CD18) is expressed on the surface of monocytes, granulocytes, activated lymphocytes and a subset of NK cells. CD11b is a receptor for intercellular adhesion molecule family members CD54, CD102 and CD50 as well as for iC3b. These adhesions are crucial in cell-cell and cell-matrix interactions.
For Research Use Only. Not for use in diagnostic procedures. Not for resale without express authorization.
Shipping
Price calculated at checkout.