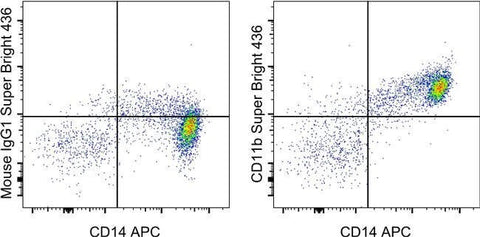 CD11b Monoclonal Antibody (ICRF44), Super Bright™ 436, eBioscience™
SKU 62-0118-42
Description
PRODUCT DETAILS
Host: Mouse
Isotype: IgG1, kappa
Clonality: Monoclonal
Clone: ICRF44
Format: Super Bright™ 436
Reactivity: Baboon, Chimpanzee, Cynomolgus Monkey, Human, Rhesus Monkey
Application: Flow Cytometry
Tested Dilution: 5 µL (0.5 µg)/test
Concentration: 5 µL/Test
Storage: 4° C, store in dark, DO NOT FREEZE!
Formulation: PBS, pH 7.2, containing 0.09% sodium azide
Purification: Affinity chromatography
Data Sheet: TDS
Specific Information
Description: The ICRF44 monoclonal antibody reacts with human CD11b, a 165 kDa adhesion molecule. CD11b associated with integrin beta2 (CD18) is expressed on the surface of monocytes, granulocytes, activated lymphocytes and a subset of NK cells. CD11b is a receptor for intercellular adhesion molecule family members CD54, CD102 and CD50 as well as for iC3b. These adhesions are crucial in cell-cell and cell-matrix interactions.
The ICRF44 monoclonal antibody crossreacts with baboon, chimpanzee, cynomologous monkey and Rhesus macaque.
Applications Reported: This ICRF44 antibody has been reported for use in flow cytometric analysis.
Applications Tested: This ICRF44 antibody has been pre-titrated and tested by flow cytometric analysis of normal human peripheral blood cells. This can be used at 5 µL (0.5 µg) per test. A test is defined as the amount (µg) of antibody that will stain a cell sample in a final volume of 100 µL. Cell number should be determined empirically but can range from 105 to 108 cells/test.
Super Bright 436 can be excited with the violet laser line (405 nm) and emits at 436 nm. We recommend using a 450/50 bandpass filter, or equivalent. Please make sure that your instrument is capable of detecting this fluorochrome.
When using two or more Super Bright dye-conjugated antibodies in a staining panel, it is recommended to use Super Bright Complete Staining Buffer (Product # SB-4401) to minimize any non-specific polymer interactions. Please refer to the datasheet for Super Bright Staining Buffer for more information.
Excitation: 405 nm; Emission: 436 nm; Laser: Violet Laser
Super Bright Polymer Dyes are sold under license from Becton, Dickinson and Company.
For Research Use Only. Not for use in diagnostic procedures. Not for resale without express authorization.
Shipping
Price calculated at checkout.