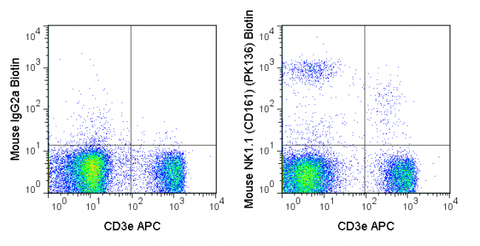 Biotin Anti-Mouse NK1.1 (CD161) (PK136)
SKU 30-5941-U025
Description
The PK136 antibody is specific for mouse NK1.1, a type II transmembrane lectin-like receptor and member of the killer cell lectin-like receptor (KLR) family. NK1.1 is prominently expressed on natural killer (NK) cells, and is correlated with NK cytotoxic effects toward virus-infected cells and tumor cells. NK1.1 is expressed on subsets of NKT cells in certain mouse strains (C57BL/6, FVB/N, and NZB), yet absent from others (AKR, BALB/c, CBA/J, C3H, DBA/1, DBA/2, NOD, SJL, and 129). Putative subsets of NK cells and their expression of NK1.1 antigen are of continuing interest, including NK1.1+/CD117+ (c-Kit) cells reported to be immunosuppressive for CD8+ T cells in a mechanism involving PD-1 and PD-L1 (Ehlers et al. 2012. Endocrinology. 10: 1247).
The PK136 antibody may be used for detection of NK1.1 expression on mouse strains including CE, B6, NZB, C58, Ma/My, ST, SJL, and FVB. The antibody is reported to react with an epitope common to NKR-P1B and NKR-P1C alloantigenic forms of NK1.1 (Carlyle et al. 2006. J. Immunol. 176: 7511-7524).
Recent Citations:
Brian BF 4th, Sauer ML, Greene JT, Senevirathne SE, Lindstedt AJ, Funk OL, Ruis BL, Ramirez LA, Auger JL, Swanson WL, Nunez MG, Moriarity BS, Lowell CA, Binstadt BA, Freedman TS. A dominant function of LynB kinase in preventing autoimmunity. Sci Adv. 2022 Apr 22;8(16):eabj5227. doi: 10.1126/sciadv.abj5227. Epub 2022 Apr 22. PMID: 35452291.
| | |
| --- | --- |
| Name | Biotin Anti-Mouse NK1.1 (CD161) (PK136) |
| Cat. No. | 30-5941 |
| Alternative Names | CD161, NKR-P1C, Ly-55 |
| Gene ID | 17059 |
| Clone | PK136 |
| Isotype | Mouse IgG2a, κ |
| Reactivity | Mouse |
| Format | Biotin |
| Application | Flow Cytometry |
Shipping
Price calculated at checkout.