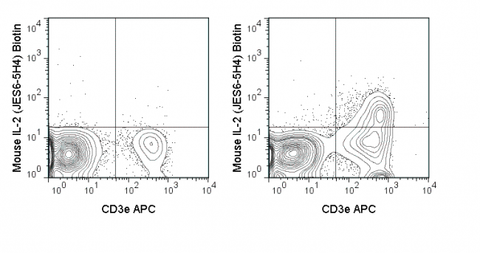 Biotin Anti-Mouse IL-2 (JES6-5H4)
SKU 30-7021-U025
Description
The JES6-5H4 antibody binds to mouse Interleukin-2 (IL-2), a 17 kDa cytokine that is secreted by activated T cells. This cytokine acts as an autocrine stimulatory factor for T cell proliferation, differentiation and survival, as well as being an effective activator of B cells and inducer of NK cell cytotoxic functions. IL-2 plays a key modulatory role in the differentiation of T cells toward either Th17 or T regulatory (Treg) cell types and is important for Treg cell function. The IL-2 receptor (IL-2R) is a complex consisting of an IL-2R alpha chain (CD25), along with the IL-2R beta chain (CD122) and the common gamma chain (CD132). IL-2 may also bind with low affinity to the T cell surface protein CD25 alone, although this interaction does not induce cell signaling.
The JES6-5H4 antibody is extensively used for intracellular detection of IL-2 by flow cytometry, for detection of soluble cytokine in ELISA, and as a neutralizing reagent in vitro and in vivo.
| | |
| --- | --- |
| Name | Biotin Anti-Mouse IL-2 (JES6-5H4) |
| Cat. No. | 30-7021 |
| Alternative Names | Interleukin-2 |
| Gene ID | 16183 |
| Clone | JES6-5H4 |
| Isotype | Rat IgG2b, κ |
| Reactivity | Mouse |
| Format | Biotin |
| Application | Flow Cytometry |
Shipping
Price calculated at checkout.