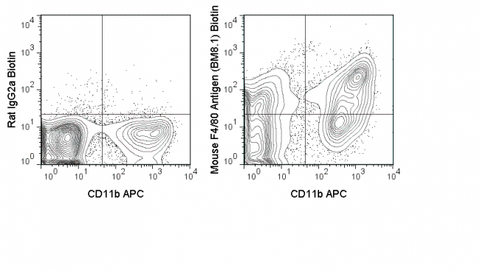 Biotin Anti-Mouse F4/80 Antigen (BM8.1)
SKU 30-4801-U025
Description
The BM8.1 antibody is specific for mouse F4/80 antigen, a 125 kDa transmembrane protein widely expressed by members of the mononuclear phagocyte system and considered to be a key marker for mature macrophage cells. F4/80 is differentially expressed during myeloid cell development, and may be regulated by certain cytokines within the tissue microenvironment. Other cell types shown to express this antigen include Langerhans cells, Kupffer cells and dendritic cell subsets. BM8.1 is widely used together with antibodies to CD115 (c-fms), CD11b and CD11c to identify myeloid / macrophage cells by flow cytometry.
Recent Citations:
Brian BF 4th, Sauer ML, Greene JT, Senevirathne SE, Lindstedt AJ, Funk OL, Ruis BL, Ramirez LA, Auger JL, Swanson WL, Nunez MG, Moriarity BS, Lowell CA, Binstadt BA, Freedman TS. A dominant function of LynB kinase in preventing autoimmunity. Sci Adv. 2022 Apr 22;8(16):eabj5227. doi: 10.1126/sciadv.abj5227. Epub 2022 Apr 22. PMID: 35452291.
| | |
| --- | --- |
| Name | Biotin Anti-Mouse F4/80 Antigen (BM8.1) |
| Cat. No. | 30-4801 |
| Alternative Names | EMR1, Ly71 |
| Gene ID | 13733 |
| Clone | BM8.1 |
| Isotype | Rat IgG2b, κ |
| Reactivity | Mouse |
| Format | Biotin |
| Application | Flow Cytometry |
Shipping
Price calculated at checkout.