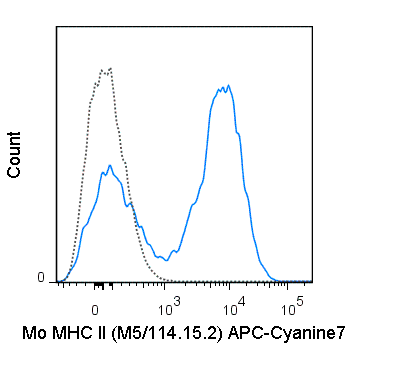 APC-Cyanine7 Anti-Mouse MHC Class II (I-A/I-E) (M5/114.15.2)
SKU 25-5321-U025
Description
The M5/114.15.2 antibody reacts with mouse MHC Class II alloantigens I-Ab, I-Ad, I-Aq, I-Ed, and I-Ek, as well as being cross-reactive with mouse cells of H-2p and H-2r haplotype. MHC Class II is widely expressed by mouse immune cells bearing these alloantigens, including T and B cells, monocytes, macrophages, and dendritic cells. The antibody does not react with the following alloantigens: I-Af, I-Ak, I-As, or NOD H-2g7.
The M5/114.15.2 antibody may be used for analysis of mouse cells expressing MHC Class II alloantigens as described. Please note that the M5/114.15.2 clone may also be referred to as M5/114 in the literature.
Recent Citations:
Burbach BJ, O'Flanagan SD, Shao Q, et al. Irreversible electroporation augments checkpoint immunotherapy in prostate cancer and promotes tumor antigen-specific tissue-resident memory CD8+ T cells. Nat Commun. 2021 Jun 23;12(1):3862. doi: 10.1038/s41467-021-24132-6. PMID: 34162858.
| | |
| --- | --- |
| Name | APC-Cyanine7 Anti-Mouse MHC Class II (I-A/I-E) (M5/114.15.2) |
| Cat. No. | 25-5321 |
| Alternative Names | MHC II, IA, IE, I-A/E, IA/IE |
| Gene ID | 14961/14969 |
| Clone | M5/114.15.2 |
| Isotype | Rat IgG2b, κ |
| Reactivity | Mouse |
| Format | APC-Cyanine7 |
| Application | Flow Cytometry |
Shipping
Price calculated at checkout.