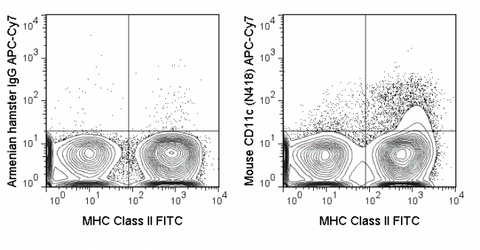 APC-Cyanine7 Anti-Mouse CD11c (N418)
SKU 25-0114-U025
Description
The N418 antibody reacts with mouse CD11c, also known as integrin αalpha X. This 150 kDa cell surface glycoprotein is part of a family of integrin αreceptors that mediate adhesion between ≥ ≥ ≥ cells (cell-cell) and components of the extracellular matrix, e.g. fibrinogen (cell-matrix). In addition, integrin αs are active signaling receptors which recruit leukocytes to inflammatory sites and promote cell activation. Complete, functional integrin αreceptors consist of distinct combinations of integrin αchains which are differentially expressed. integrin αalpha X (CD11c) assembles with integrin αbeta-2 (CD18) into a receptor complex known as CR4 which can bind and induce signaling through ICAMs and VCAM-1 on endothelial cells and can also facilitate removal of iC3b bearing foreign cells.
The N418 antibody is widely used as a marker for CD11c expression on dendritic cells (DC), often in parallel with markers for CD11b, for identification of developmental stages and mature subsets of this cell type. CD11c is prominently expressed on tissue macrophages, and is also detected on some types of activated T cells and intestinal intraepithelial lymphocytes (IEL).
Recent Publications:

Hinke DM, Andersen TK, Gopalakrishnan RP, Skullerud LM, Werninghaus IC, Grødeland G, Fossum E, Braathen R, Bogen B. Antigen bivalency of antigen-presenting cell-targeted vaccines increases B cell responses. Cell Rep. 2022 May 31;39(9):110901. doi: 10.1016/j.celrep.2022.110901. PMID: 35649357.
Shiyang Li, John W. Bostick, Jian Ye, Joseph F. Urban, Jr., Dorina Avram, Liang Zhou. Aryl Hydrocarbon Receptor Signaling Cell Intrinsically Inhibits Intestinal Group 2 Innate Lymphoid Cell Function. Immunity. 2018 Nov 20;49(5):915-928.e5. doi: 10.1016/j.immuni.2018.09.015
Grajales-Reyes GE, Iwata A, Albring J, Wu X, Tussiwand R, Kc W, Kretzer NM, Briseno CG, Durai V, Bagadia P, Haldar M, Schonheit J, Rosenbauer F, Murphy TL and Murphy KM. 2015.  Nat Immunol. 16(7): 708-717. (Flow Cytometry)
| | |
| --- | --- |
| Name | APC-Cyanine7 Anti-Mouse CD11c (N418) |
| Cat. No. | 25-0114 |
| Alternative Names | p150, integrin α?X, Itgax, CR4 |
| Gene ID | 16411 |
| Clone | N418 |
| Isotype | Armenian Hamster IgG |
| Reactivity | Mouse |
| Format | APC-Cyanine7 |
| Application | Flow Cytometry |
Shipping
Price calculated at checkout.