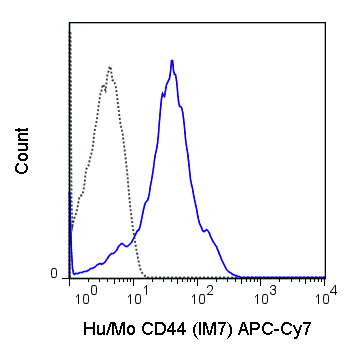 APC-Cyanine7 Anti-Human/Mouse CD44 (IM7)
SKU 25-0441-U025
Description
The IM7 antibody recognizes CD44, a ubiquitously expressed cell surface receptor which is important for extracellular matrix organization, cell-cell and cell-matrix adhesion and migration. CD44 may be expressed in a number of different isoforms (splice variants) from the most typical or "standard" form, known as CD44s, to variants designated CD44v, e.g. CD44v1 or CD44v6. These receptors interact with several ligands, but most often associate with an extracellular matrix component hyaluronate, through which it mediates adhesion.
The IM7 antibody may be used for detection of all isoforms of CD44, as it recognizes constant epitopes near the extracellular proximal domain. (Xu et al, 2002, J. Leukoc. Biol. 72:1133-1141). It has been reported to be cross-reactive with many non-human species including Baboon, Chimpanzee, Cynomolgus, Rhesus, Horse, Cow, Pig, Dog and Cat CD44.
Recent Citations:
Hong H, Lee J, Park GY, Kim S, Park J, Park JS, Song Y, Lee S, Kim TJ, Lee YJ, Roh TY, Kwok SK, Kim SW, Tan Q, Lee Y. Postnatal regulation of B-1a cell development and survival by the CIC-PER2-BHLHE41 axis. Cell Rep. 2022 Feb 15;38(7):110386. doi: 10.1016/j.celrep.2022.110386. PMID: 35172136.
Ortega-Molina A, Lebrero-Fernández C, Sanz A, et al. Inhibition of Rag GTPase signaling in mice suppresses B cell responses and lymphomagenesis with minimal detrimental trade-offs. Cell Rep. 2021 Jul 13;36(2):109372. doi: 10.1016/j.celrep.2021.109372. PMID: 34260908. 
| | |
| --- | --- |
| Name | APC-Cyanine7 Anti-Human/Mouse CD44 (IM7) |
| Cat. No. | 25-0441 |
| Alternative Names | Pgp-1, MDU3, Hermes, Hyaluronate receptor |
| Gene ID | 12505 |
| Clone | IM7 |
| Isotype | Rat IgG2b, κ |
| Reactivity | Human, Mouse |
| Cross Reactivity | Baboon, Canine, Chimpanzee, Cynomolgus, Equine, Feline, Rhesus, Swine |
| Format | APC-Cyanine7 |
| Application | Flow Cytometry |
Shipping
Price calculated at checkout.