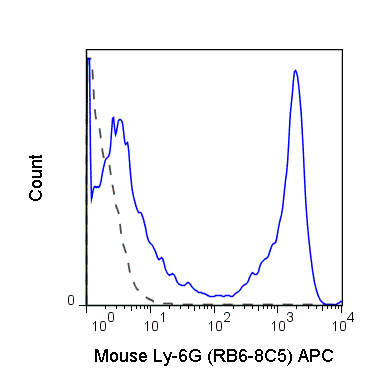 APC Anti-Mouse Ly-6G/Ly-6C (Gr-1) (RB6-8C5)
SKU 20-5931-U025
Description
The RB6-8C5 antibody binds to mouse Ly-6G/Ly-6C, commonly known as Gr-1, a member of the Ly-6 superfamily of GPI-anchored cell surface proteins with roles in cell signaling and cell adhesion. Gr-1 is differentially expressed during development and maturation of cells in the myeloid lineage and is expressed at varying stages and levels on monocytes, macrophages, granulocytes, and peripheral neutrophils.
Recent Publications:
Oda Y, Takahashi C, Harada S, Nakamura S, Sun D, Kiso K, Urata Y, Miyachi H, Fujiyoshi Y, Honigmann A, Uchida S, Ishihama Y, Toyoshima F. Discovery of anti-inflammatory physiological peptides that promote tissue repair by reinforcing epithelial barrier formation. Sci Adv. 2021 Nov 19;7(47):eabj6895. doi: 10.1126/sciadv.abj6895. Epub 2021 Nov 17. PMID: 34788088.
Velasco-de Andrés M, Català C, Casadó-Llombart S, et al. The lymphocytic scavenger receptor CD5 shows therapeutic potential in mouse models of fungal infection. Antimicrob Agents Chemother. 2020 Oct 12:AAC.01103-20. doi: 10.1128/AAC.01103-20. PMID: 33046489. 
| | |
| --- | --- |
| Name | APC Anti-Mouse Ly-6G (Gr-1) (RB6-8C5) |
| Cat. No. | 20-5931 |
| Alternative Names | Gr1, Ly6G |
| Gene ID | 17067 |
| Clone | RB6-8C5 |
| Isotype | Rat IgG2b, κ |
| Reactivity | Mouse |
| Format | APC |
| Application | Flow Cytometry |
Shipping
Price calculated at checkout.