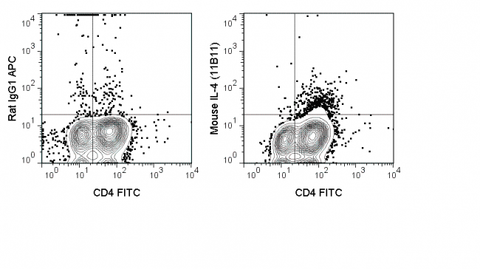 APC Anti-Mouse IL-4 (11B11)
SKU 20-7041-U025
Description
The 11B11 antibody binds to mouse Interleukin-4 (IL-4), a 14 kDa cytokine that is largely secreted by activated T cells of the Th2 subset, and to some degree by NKT and mast cells. This cytokine acts as a stimulatory factor for B cells, inducing their proliferation and differentiation, as well as playing a role in immunoglobulin class-switching. IL-4 may also provide autocrine stimulation for T cells, and affect the function of antigen presenting cells such as macrophages and dendritic cells. IL-4 can bind and signal via three cell surface receptor types: CD124 by itself, CD124 in combination with the common gamma chain (type I complex), or CD124 combined with CD213a1 (type II complex).
The 11B11 antibody is widely used for detection of intracellular levels of IL-4 protein by flow cytometry, as well as for analysis of soluble cytokine as measured by ELISA, and in functional assays to neutralization cytokine-receptor interactions. Please choose the appropriate format for each application.
| | |
| --- | --- |
| Name | APC Anti-Mouse IL-4 (11B11) |
| Cat. No. | 20-7041 |
| Alternative Names | IL4, Interleukin-4, BSF-1 |
| Gene ID | 16189 |
| Clone | 11B11 |
| Isotype | Rat IgG1, kappa |
| Reactivity | Mouse |
| Format | APC |
| Application | Flow Cytometry |
Shipping
Price calculated at checkout.