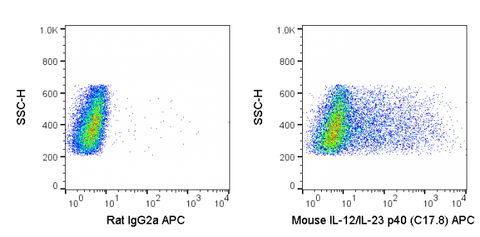 APC Anti-Mouse IL-12/IL-23 p40 (C17.8)
SKU 20-7123-U025
Description
The C17.8 antibody is specific for the 40 kDa (p40) protein subunit shared by the cytokines IL-12 and IL-23. To form IL-12, p40 assembles with a separate 35 kDa protein known as p35, resulting in a 70 kDa functional cytokine. IL-12 is secreted by activated monocytes, macrophages, and dendritic cells, and has been shown to target naive, resting CD4+ T cells to promote their proliferation and secretion of cytokines. IL-23 contains the p40 subunit in combination with a 19 kDa protein chain, p19; its primary source being activated dendritic cells and other antigen-presenting cells. IL-23 appears to target different cell types than IL-12, acting on memory CD4+ T cells to induce a strong proliferative response and contributing to the generation and expansion of Th17 cells. Like the cytokines themselves, the receptors for IL-12 and IL-23 share one subunit, as well as containing distinct cytokine-specific subunits.
As the C17.8 antibody binds to a shared subunit of both IL-12 and IL-23, it may be used as a marker for either IL-12 or IL-23 expression in dendritic cells, monocytes and macrophages, and is widely used for neutralization of activity associated with either cytokine. Please choose the appropriate format for each application.
| | |
| --- | --- |
| Name | APC Anti-Mouse IL-12/IL-23 p40 (C17.8) |
| Cat. No. | 20-7123 |
| Gene ID | 16160 |
| Clone | C17.8 |
| Isotype | Rat IgG2a, κ |
| Reactivity | Mouse |
| Format | APC |
| Application | Flow Cytometry |
Shipping
Price calculated at checkout.