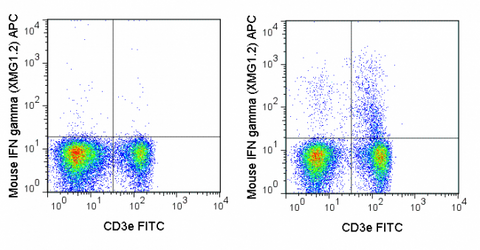 APC Anti-Mouse IFN gamma (XMG1.2)
SKU 20-7311-U025
Description
The XMG1.2 antibody is specific for mouse Interferon-gamma (IFN-g), a 20 kDa type II cytokine known for its central roles in protection against bacterial or viral pathogens and for its anti-tumor properties. IFN-g is secreted by several types of immune cells which allow the cytokine to modulate innate immunity when secreted by NK and NKT cells, and to function in support of adaptive immunity when secreted by Th1 and CD8+ T cells (CTLs).
The XMG1.2 antibody is suitable for detection of intracellular IFN-g protein by flow cytometry. Other formats can be used for quantitative analysis of the secreted protein by ELISA when paired with an appropriate capture antibody. This clone has been reported for neutralization of the functional activity of ≥≥IFN-g in a variety of assays (use format suitable for functional assays).
Recent Publications:

Ishikura N, Sugimoto M, Yorozu K, Kurasawa M, Kondoh O. Anti‑VEGF antibody triggers the effect of anti‑PD‑L1 antibody in PD‑L1low and immune desert‑like mouse tumors. Oncol Rep. 2022 Feb;47(2):36. doi: 10.3892/or.2021.8247. Epub 2021 Dec 27. PMID: 34958105.
Sheppard S, Santosa EK, Lau CM, Violante S, Giovanelli P, Kim H, Cross JR, Li MO, Sun JC. Lactate dehydrogenase A-dependent aerobic glycolysis promotes natural killer cell anti-viral and anti-tumor function. Cell Rep. 2021 Jun 1;35(9):109210. doi: 10.1016/j.celrep.2021.109210. PMID: 34077737.
Davenport BJ, Morrison TE, Kedl RM, Klarquist J. Conserved and Novel Mouse CD8 T Cell Epitopes within SARS-CoV-2 Spike Receptor Binding Domain Protein Identified following Subunit Vaccination. J Immunol. 2021 May 10:ji2100195. doi: 10.4049/jimmunol.2100195. PMID: 33972373.
Wiedemann GM, Grassmann S, Lau CM, Rapp M, Villarino AV, Friedrich C, Gasteiger G, O'Shea JJ, Sun JC. Divergent Role for STAT5 in the Adaptive Responses of Natural Killer Cells. Cell Rep. 2020 Dec 15;33(11):108498. doi: 10.1016/j.celrep.2020.108498. PMID: 33326784. 
Diaz-Salazar C, Sun JC. Coordinated Viral Control by Cytotoxic Lymphocytes Ensures Optimal Adaptive NK Cell Responses. Cell Rep. 2020 Sep 22;32(12):108186. doi: 10.1016/j.celrep.2020.108186. PMID: 32966792. 
Gao Y, Min K, Zhang Y, Su J, Greenwood M and Gronert K. 2015. J Immunol. DOI: 10.4049/jimmunol.1500610. (Flow Cytometry)
| | |
| --- | --- |
| Name | APC Anti-Mouse IFN gamma (XMG1.2) |
| Cat. No. | 20-7311 |
| Alternative Names | IFN-g, IFNg, Interferon-g, Immune interferon, Type II interferon, T cell interferon, Macrophage-activating factor (MAF) |
| Gene ID | 15978 |
| Clone | XMG1.2 |
| Isotype | Rat IgG1, kappa |
| Reactivity | Mouse |
| Format | APC |
| Application | Flow Cytometry |
Shipping
Price calculated at checkout.