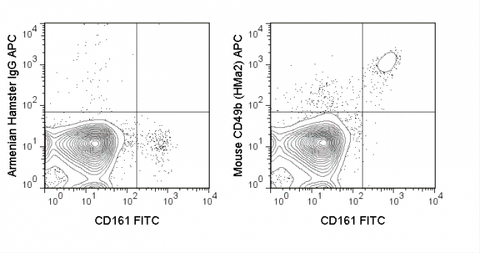 APC Anti-Mouse CD49b (HMa2)
SKU 20-0491-U025
Description
The HMa2 antibody reacts with mouse CD49b, a 150 kDa glycoprotein member of the integrin αfamily. CD49b, also known as integrin αalpha2, associates non-covalently with CD29 (integrin αbeta1) to form the VLA-2 heterodimer. VLA-2 integrin αs function as cellular receptors for collagen and laminin. CD49b is expressed by platelets, intestinal epithelial cells, NK cells, epithelial cells, and a subset of CD4+ T cells. CD49b plays an essential role in mediating the adhesion of cells to the extracellular matrix.
Name
APC Anti-Mouse CD49b (HMa2)
Cat. No.
20-0491
Alternative Names
α2 integrin α, VLA-2 α chain, integrin α2 chain, ITGA2, HM

α

2
Gene ID
16398
Clone
HMa2
Isotype
Armenian Hamster IgG
Reactivity
Mouse
Format
APC
Application
Flow Cytometry
Shipping
Price calculated at checkout.