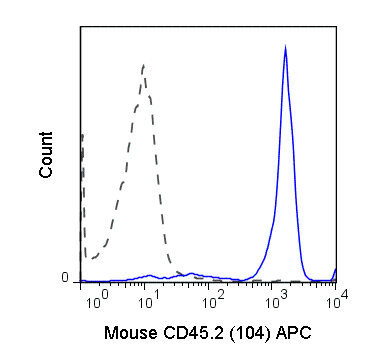 APC Anti-Mouse CD45.2 (104)
SKU 20-0454-U025
Description
The 104 antibody reacts with mouse CD45.2, also known as Ly5.2, which is a strain-specific allelic form of the CD45 Leukocyte Common Antigen (LCA). Functionally, CD45 is a protein tyrosine phosphatase whose broad cell distribution supports a critical role in many leukocyte functions, including regulation of signal transduction and cell activation associated with the T cell and B cell receptors.
The 104 antibody is typically used as a leukocyte marker in Ly5.2 mouse strains C57BL/6, BALB/c, C58, DBA/1, DBA/2, C3H/He, CBA, 129, A and AKR. The antibody has been demonstrated to be specific for CD45.2 and is not cross-reactive with CD45.1-bearing cells.
Recent Publications:
Rahim T, Levinson MA, Carufe KEW, Burak M, Meas R, Maher S, Bothwell ALM, Gades N, Sweasy JB. The hematopoietic compartment is sufficient for lupus development resulting from the POLB-Y265C mutation. PLoS One. 2022 Apr 29;17(4):e0267913. doi: 10.1371/journal.pone.0267913. PMID: 35486639; PMCID: PMC9053796.
Nishina T, Deguchi Y, Ohshima D, et a. Interleukin-11-expressing fibroblasts have a unique gene signature correlated with poor prognosis of colorectal cancer. Nat Commun. 2021 Apr 16;12(1):2281. doi: 10.1038/s41467-021-22450-3. PMID: 33863879.
» View on Nature Communications 
Mishra S, Liao W, Liu Y, Yang M, Ma C, Wu H, Zhao M, Zhang X, Qiu Y, Lu Q, Zhang N. TGF-β and Eomes control the homeostasis of CD8+ regulatory T cells. J Exp Med. 2021 Jan 4;218(1):e20200030. doi: 10.1084/jem.20200030. PMID: 32991667; PMCID: PMC7527976.
Forte D, García-Fernández M, Sánchez-Aguilera A, Stavropoulou V, Fielding C, Martín-Pérez D, López JA, Costa ASH, Tronci L, Nikitopoulou E, Barber M, Gallipoli P, Marando L, Fernández de Castillejo CL, Tzankov A, Dietmann S, Cavo M, Catani L, Curti A, Vázquez J, Frezza C, Huntly BJ, Schwaller J, Méndez-Ferrer S. Bone Marrow Mesenchymal Stem Cells Support Acute Myeloid Leukemia Bioenergetics and Enhance Antioxidant Defense and Escape from Chemotherapy. Cell Metab. 2020 Sep 16:S1550-4131(20)30479-4. doi: 10.1016/j.cmet.2020.09.001. PMID: 32966766.   
| | |
| --- | --- |
| Name | APC Anti-Mouse CD45.2 (104) |
| Cat. No. | 20-0454 |
| Alternative Names | Ly5.2 |
| Gene ID | 19264 |
| Clone | 104 |
| Isotype | Mouse IgG2a, κ |
| Reactivity | Mouse |
| Format | APC |
| Application | Flow Cytometry |
Shipping
Price calculated at checkout.