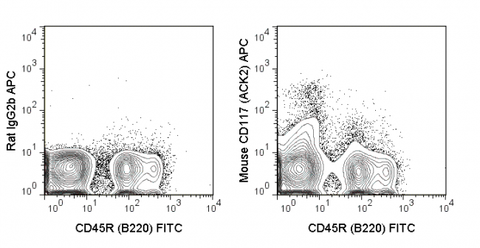 APC Anti-Mouse CD117 (c-Kit) (ACK2)
SKU 20-1172-U025
Description
The ACK2 antibody is specific for CD117, also called c-Kit, a 145 kDa cytokine receptor important in the development of hematopoietic stem cells, in oogenesis, and for functional activity of ≥≥immune cells such as NK and mast cells. c-Kit binds to a ligand known as stem cell factor (SCF), or alternatively as mast cell growth factor. Ligand binding promotes the activation (dimerization) and subsequent tyrosine kinase activity of ≥≥the c-Kit receptor and triggers key survival, expansion and maturation signals during hematopoietic progenitor cell development. Conversely, shedding of extracellular domain of c-Kit receptor is reported to induce inactivation or apoptosis within these cells. The survival signaling activity of ≥≥c-Kit confers a proto-oncogenic attribute to the receptor, as overexpression or mutations in this protein are associated with tumor development.
The ACK2 antibody is widely utilized as a marker to identify hematopoietic progenitors, and to neutralize receptor-ligand binding in vitro and in vivo (use format appropriate for functional assays).
Recent Publications:
Baba T, Yoshida T, Tanabe Y, et al. Cytoplasmic DNA accumulation preferentially triggers cell death of myeloid leukemia cells by interacting with intracellular DNA sensing pathway. Cell Death Dis. 2021 Mar 26;12(4):322. doi: 10.1038/s41419-021-03587-x. PMID: 33771977.  
| | |
| --- | --- |
| Name | APC Anti-Mouse CD117 (c-Kit) (ACK2) |
| Cat. No. | 20-1172 |
| Alternative Names | Steel Factor Receptor, SCFR, cKit |
| Gene ID | 16590 |
| Clone | ACK2 |
| Isotype | Rat IgG2b, κ |
| Reactivity | Mouse |
| Cross Reactivity | Rat |
| Format | APC |
| Application | Flow Cytometry |
Shipping
Price calculated at checkout.