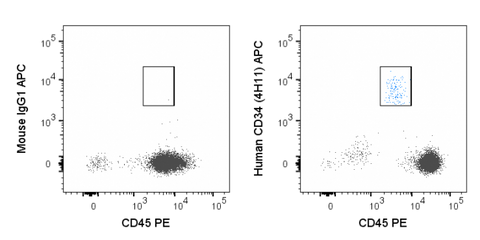 APC Anti-Human CD34 (4H11)
SKU 20-0349-T025
Description
The 4H11 monoclonal antibody reacts with human CD34, a single pass transmembrane protein with a molecular weight of 105-120 kDa. CD34 is heavily glycosylated with an N-terminal mucin domain. Although the function of CD34 is not defined, the intracellular domain of CD34 is a target for phosphorylation by activated protein kinase C, suggesting a possible role in signal transduction. CD34 is expressed on hematopoietic progenitor cells, some populations of mesenchymal stem cells, and vascular endothelium. The epitope of CD34 recognized by the 4H11 antibody is assigned to the class III epitopes. Additionally, CD34 may also function as an adhesion molecule with a role in mediating attachment of stem cells to bone marrow extracellular matrix, stromal cells, or other bone marrow components.
| | |
| --- | --- |
| Name | APC Anti-Human CD34 (4H11) |
| Cat. No. | 20-0349 |
| Clone | 4H11 |
| Isotype | Mouse IgG1 k |
| Reactivity | Human |
| Format | APC |
| Application | Flow Cytometry |
Shipping
Price calculated at checkout.