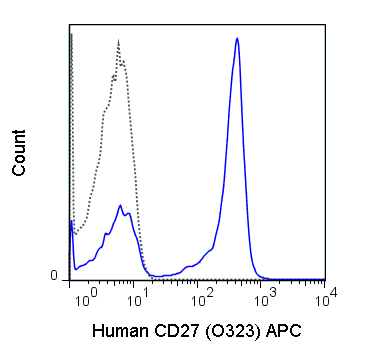 APC Anti-Human CD27 (O323)
SKU 20-0279-T025
Description
The O323 antibody reacts with human CD27 (TNFRSF7), a cell surface homodimer of ≥ 55 kDa subunits, which provides co-stimulatory signaling in support of the T cell (TCR) and B cell (BCR) receptors. By comparison with CD28, whose TCR co-stimulatory signal can trigger cell proliferation, CD27 signaling appears to promote cell survival and differentiation to effector / memory stages. Also in contrast with CD28, the CD27 receptor may be shed following interaction with its ligand CD70, which is typically expressed on activated dendritic cells, T cells and B cells. With respect to B cells, CD27 is considered to be a phenotypic marker for memory B cells. CD27 has been included within a group of phenotypic markers for identifying human B regulatory cells (Bregs), a cell type proposed to regulate CD4+ T cell proliferation and Foxp3 / CTLA-4 expression in Treg cells.
The O323 antibody may be used for analysis of CD27 expression on peripheral T cells, and is frequently used in combination with antibodies for IgD and IgM to distinguish naïve vs. memory B cell populations. For identification of Breg cells, this antibody has been used in combination with antibodies for CD25, CD1d, IL-10 and TGF-beta (Kessel et al. 2012. Autoimm. Rev. 11(9): 670-677). The antibody is also reported for cross-reactivity with Baboon, Cynomolgus and Rhesus CD27.
| | |
| --- | --- |
| Name | APC Anti-Human CD27 (O323) |
| Cat. No. | 20-0279 |
| Alternative Names | TNFRSF7, S152, T14 |
| Gene ID | 939 |
| Clone | O323 |
| Isotype | Mouse IgG1, kappa |
| Reactivity | Human |
| Cross Reactivity | Baboon, Cynomolgus, Rhesus |
| Format | APC |
| Application | Flow Cytometry |
Shipping
Price calculated at checkout.