DxP Athena™
Overview
---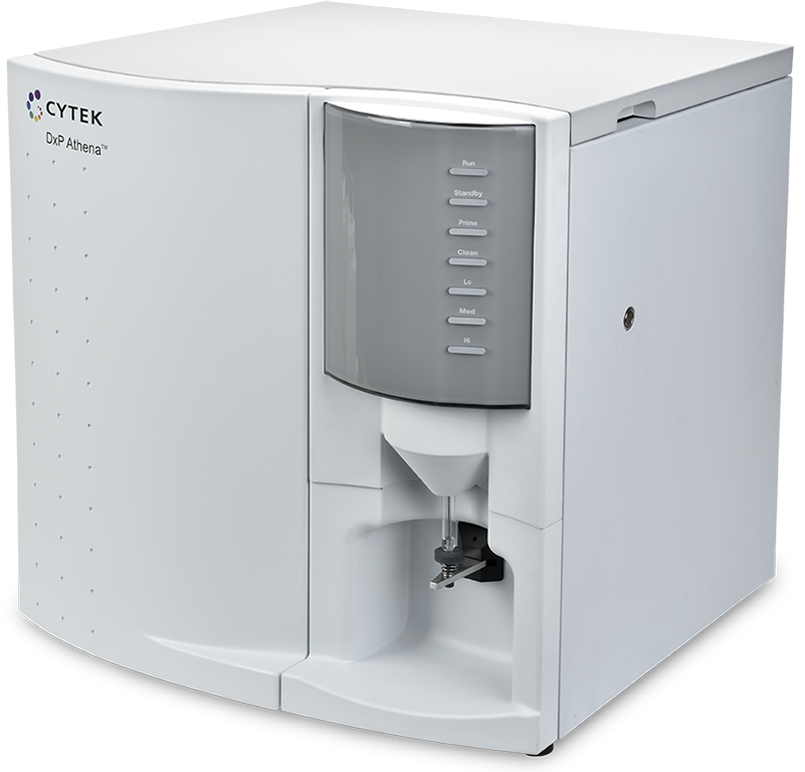 Built by Cytek® from the ground up, the DxP Athena™ flow cytometry system incorporates Cytek's proven DxP technology enabling the capability to resolve dim populations in a multicolor format. Choose from configurations with up to 3 lasers and 13 fluorescence detection channels. Each configuration offers consistent powerful performance to meet your application requirements at an affordable price.
For Research Use Only. Not for use in diagnostic or therapeutic procedures.
Available Configurations
---

from 6-color to 13-color
Benefits
---
Resolution of dim populations
Incorporates DxP Technology with efficient photomultiplier tubes( PMT) enabling high sensitivity and resolution.
---
Built-in maintenance capability
Automated monthly clean bleach cycle minimizes downtime, streamlines maintenance, and encourages compliance.
---
Future-proofing
Upgradeable to 3 lasers and 13 colors. Available options include a 96-Well Automated Micro-Sampler (AMS).
---
Small Footprint
55 x 52.4 x 57.8 cm
(21.7 x 20.6 x 22.8 in)
---
Reproducible Results
QbSure® software characterizes the detectors and ensures optimal daily instrument performance.
---
References
DxP Athena™ incorporates the same DxP Technology used in other Cytek® upgraded platforms that are referenced in over 100 publications.
Specifications
Optics
Excitation Optics
---
Optical Platform
Allows up to 3 lasers. Fixed optical assembly with three spatially separated laser beams.
Lasers
407nm: 50mW
488nm: 45mW
637nm: 80mW
Beam geometry
Prismatic expander and achromatic spherical lens.
Optical Efficiency
Power loss at flow cell: <20% of specified laser power.
Emission Optics
---
Optical coupling
Fused silica cuvette coupled to emission lens by refractive index matching optical gel for optimum collection efficiency.
Background rejection
Obscuration blade and slit for minimizing unwanted laser radiation at the detector.
Forward scatter detector and filter
High-performance solid-state silicon detector with 488nm bandpass filter.
Side scatter detector
Photomultiplier and 488nm bandpass filter.
Photomultiplier Tubes
High efficiency Tri-alkali Photomultipliers.
Fluorescence detectors and filters
DxP Athena 13-color Configuration shown. Other configurations available.
BluFL1: 530/30 (FITC, Alexa Fluor® 488)
BluFL2: 575/30 (PE)
BluFL3: 615/25 (PE-Texas Red®)
BluFL4: 695/40 (PerCP-Cy5.5)
BluFL5: 780/60 (PE-Cy7)
RedFL1: 661/16 (APC)
RedFL2: 710/50 (Alexa Flour® 700)
RedFL3: 780/60 (APC-Cy7)
VioFL1: 450/50 (Brilliant Violet™ 421)
VioFL2: 525/50 (Brilliant Violet™ 510)
VioFL3: 615/25 (Brilliant Violet™ 605)
VioFL4: 710/50 (Brilliant Violet™ 711)
VioFL5: 780/60 (Brilliant Violet™ 785)
Fluidics
Sample Flow Rates
Front panel keypad provides four modes:
Run, Standby, Prime, and Clean.
Three preset flow rates:
LO: 12 μL/min
MED: 35 μL/min
HI: 60 μL/min
Maintenance
Onboard CLEAN mode for monthly maintenance.
Standard Fluidic Reservoirs
One 4-L sheath container and one 4-L waste container provided.
Regulatory Status
For Research Use Only. Not for use in diagnostic or therapeutic procedures except in countries where the regulatory approval has been obtained from the local regulatory authorities. Please check with your local sales representatives before placing your orders.
DxP Technology Performance
Fluorescence Sensitivity
---
Molecules of Equivalent Fluorescence (MEFL), using Q&b Method*
| | | | |
| --- | --- | --- | --- |
| FITC | 0.007 | 1200 | 382 |
| PE | 0.05 | 1000 | 300 |
| PerCP-CY5.5 | 0.003 | 600 | 336 |
| PE-CY7 | 0.001 | 2000 | 758 |
| APC | 0.015 | 500 | 161 |
| APC-CY7 | 0.005 | 7500 | 1161 |
| BV421 | 0.01 | 3750 | 818 |
| BV510 | 0.01 | 1500 | 1261 |
*Q measures optical efficiency, b measures background, and R resolution limit) measures the number of dye molecules required to resolve a dim population from noise. **Average R value across 4 systems. MEFL required to be 2 standard deviations above noise. Assumes no compensation applied.
Fluorescence Sensitivity Threshold
FITC: 50 molecules of equivalent soluble flurochrome (MEFL-FITC)
PE: 30 molecules of equivalent soluble flurochrome (MEFL-PE)
*FITC and PE measurements performed using SPHERO Rainbow Calibration Particle (RCP-30-5A)
Fluorescence Linearity
Delivers doublet/singlet ratio of 1.95–2.05 for CEN stained with PI and excited with the 488nm blue laser.
Forward and Side Scatter Sensitivity
Enables separation of fixed platelets from noise.
Enables separation of fixed platelets from noise.
Performance is optimized for resolving lymphocytes, monocytes, and granulocytes.
Side Scatter Resolution
Capable to resolve 0.5μm beads from noise.
Fluorescence Resolution
18 bit 5 log decades
Data Acquisition Rate
7,500 events/s with beads.
Data Management
FlowJo™ Collector's Edition 7.5.110 or later
---
Our acquisition interface can be adapted to any application.
Real time spillover matrix for viewing live compensated data.
Acquisition templates include hardware, gate, spillover, layout and statistical settings.
Save workspaces and use during multiple acquisition sessions.
Cytek AMS software version 1.0.4
---
Fast and Easy Setup
Experiment plate mapping, including stain names can be setup on stand alone computer and saved as a template for future use.
Block Inspector
Change the FlowJo Collector's Edition acquisition settings on a per block basis.
Well ID Stamping
Well ID in the file name confirms data file to Well ID relationship.
Workstation
Operating System
Windows® 7 32-Bit Professional
Processor
Intel Quad Core processor, 3.0 GHz
RAM
4GB (1 x 4GB), 16000 MHz DDR3
Hard Drive
500GB SATA 3.0Gb/s
DVD Drive
16x DVD+/- RW, SATA
Video Processor
HD Graphics GMA 4600
Monitor
24" LCD
Options
96-Well Auto-sampling
Cytek's automatic micro-sampler (AMS) can be mounted directly under the sample injection tube reducing dead volume and increasing throughput.
Auto-mode
Full 96-well plate in 40 minutes (15 sec. acquisition/well and 10 sec. wash/well) less than 1% carryover.
High throughput mode
Full 96-well plate in 15 minutes. (9 sec. acquisition/well) less than 3% carryover.
Installation Requirements
Dimensions (W x D x H)
Sensor module (without AMS)
55 x 52.4 x 57.8 cm
(21.7 x 20.6 x 22.8 in)
Weight
45.4 kg (100lbs)
Computer
48 x 41 x 58 cm (19 x 16 x 23 in)
Recommended workspace
180 x 91 x 132 cm
(71 x 36 x 52 in)
Room Requirements
Power
100-240V, 50/60 Hz, 2A Max
Heat dissipation
450 watts with all solid-state lasers
Temperature
16–29°C (60–85°F)
Humidity
10% to 90% relative non-condensing
Air filtering
No excessive dust and smoke
Lighting
Optics and detectors shielded from room
Documents
---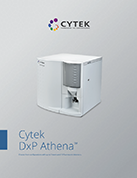 DxP Athena™ Product Brochure
Click below to download the complete product brochure for the DxP Athena™. It contains everything you need to know about this revolutionary product.
Download PDF
---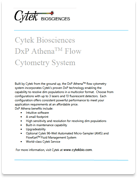 DxP Athena™ Technical Specs
Click below to download the technical specs for the DxP Athena™. It contains everything you need to know about this revolutionary product.
Download PDF
Software
---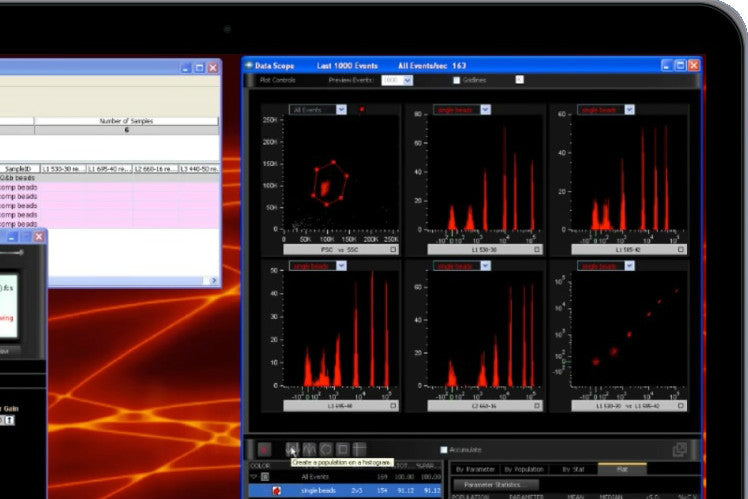 Driving the powerful DxP technology is Cytek's Exclusive FlowJo Collector's Edition Software
With this intuitive software you enjoy high speed data acquisition along with the tools required to optimize setup for a wide range of applications.
Learn More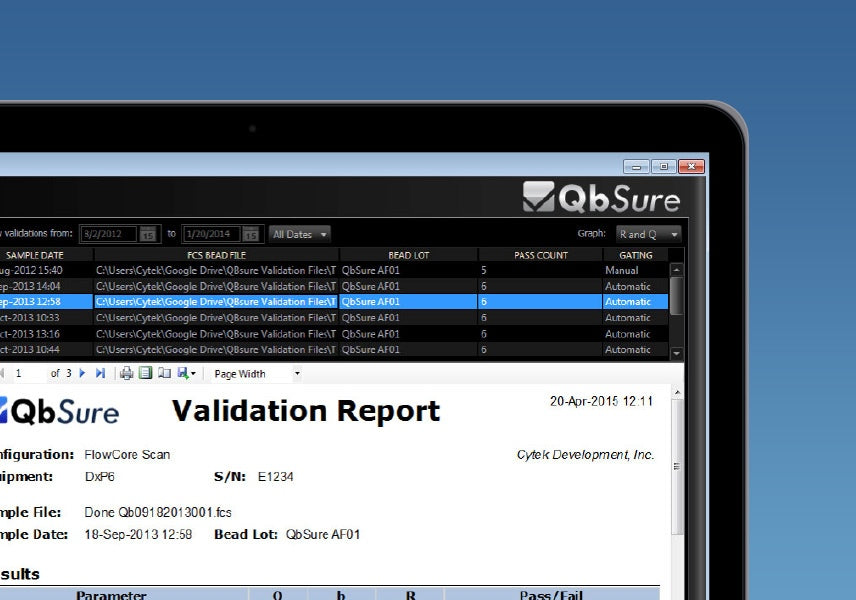 QbSure® Cytometer Performance Verification Software
Check your cytometer's light collection efficiency (Q) and background noise (b) contribution to the resolution limit (R) for detecting dim populations.
Learn More
FAQs
---
Can I purchase a 561nm laser upgrade?
close
We are hoping to have a 561nm option available within the next 6 months.
---
Can I purchase a UV laser?
close
Not at this time but we are open to adding it in the future if there is a high demand.
---
If I purchase a B/V/R system and add a 561nm in the future, will I get a 4th beam spot and dedicated detectors?
close
Not at this time. You will get an extra beam spot and detectors with an upgraded two laser system.
---
Can I customize my system with other laser wavelength and powers?
close
The DxP Athena™ comes in standard configurations that enable Cytek® to ensure the same level of performance from manufacturing to service to daily customer performance.
---
What is included with the purchase of a DxP Athena™?
close
The purchase includes a workstation, monitor, QbSure®, and FlowJo Collector's Edition software packages, a one day onsite training and a one year warranty.
---
If I purchase an 8-color system today, can I upgrade in the future?
close
Yes. You can upgrade all the way up to a 13-color system.
---
How many years of Service are included with my purchase?
close
A one year warranty is included with your system with various levels of service options to choose from at the time of purchase.
---
Is training included with my purchase?
close
A 1 day onsite overview of workflow basics is included. Up to 3 people can attend.