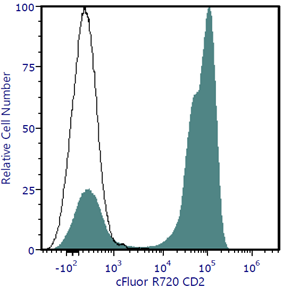 cFluor® R720 Anti-Human CD2 (RPA-2.10)
SKU R7-11143
Description
The RPA-2.10 monoclonal antibody binds to human CD2, a 50-kDa type I transmembrane glycoprotein (1)(2).  CD2, also known as LFA-2, T11, and sheep red blood cell receptor (SRBC-R), is expressed on thymocytes, T lymphocytes, NK cells, and thymic B cell subsets. The major ligand for CD2 is CD58 (also known as LFA-3). CD2 has also been reported to bind CD48, CD59, and CD15. CD2 plays a critical role in alternative T cell activation, T cell signaling, and cell-cell adhesion (3). The antibody was conjugated to a fluorophore and purified by affinity chromatography.
PRODUCT DETAILS
Clone:                  RPA-2.10
Reactivity:          Human, African Green, Baboon, Capuchin Monkey, Chimpanzee, Cynomolgus, Pigtailed Macaque, Rhesus, Swine (Pig, Porcine)
Format:               cFluor® R7201
Isotype:               Mouse IgG1, κ
Tested Dilution:  5 μL / test
Application:        Flow Cytometry
Storage:               2-8°C and protected from Light. Do not freeze.
Formulation:     Phosphate-buffered saline, pH 7.2, containing 0.09% sodium azide and 0.2% BSA (BSA Country of Origin USA).
REFERENCES
Moingeon P, et al. 1989. Immunol Rev. Oct; 111: 111-44
Schraven B. J Biol Regul Homeost Agents. 2000 Jul-Sep;14(3):223-5
Binder C, et al. Front Immunol. 2020 Jun 9; 11: 1090
This product is intended for in vitro diagnostic use to identify human cells expressing CD2 antigen molecules in countries where the regulatory approval has been obtained from the local regulatory authorities.

1cFluor® R720 is equivalent to CF®700 manufactured and provided by Biotium, Inc. under an Agreement between Biotium and Cytek (LICENSEE). The manufacture, use, sale, offer for sale, or import of the product is covered by one or more of the patents or pending applications owned or licensed by Biotium. The purchase of this product includes a limited, non-transferable immunity from suit under the foregoing patent claims for using only this amount of product for the purchaser's own internal research. No right under any other patent claim, no right to perform any patented method, and no right to perform commercial services of any kind, including without limitation reporting the results of purchaser's activities for a fee or other commercial consideration, is conveyed expressly, by implication, or by estoppel.
Shipping
Price calculated at checkout.