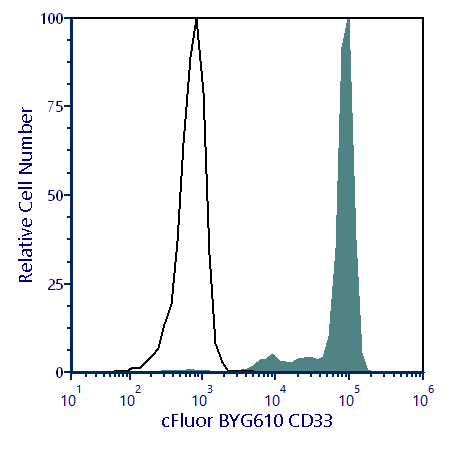 cFluor® BYG610 Anti-Human CD33 (WM53)
SKU R7-11022
Description
The WM53 monoclonal antibody binds to human CD33, a 67-kDa type I transmembrane glycoprotein in the immunoglobulin family. CD33, also known as Siglec-3, gp67, and p67, is expressed on monocytes, activated T cells, myeloid progenitors, granulocytes, dendritic cells, and mast cells. It is absent on erythrocytes, platelets, and lymphoid cells. CD33 binds to sialic acids to act as a sialic acid-dependent cell adhesion molecule. It also contains intracellular tyrosine-based inhibition motifs (ITIMs), suggesting its function to inhibit cellular activity. The antibody was conjugated to a fluorophore and purified by affinity chromatography.
PRODUCT DETAILS
Clone:                  WM53
Reactivity:          Human, Chimpanzee
Format:             cFluor® BYG6101
Isotype:               Mouse IgG1, κ
Tested Dilution:  5 μL / test
Application:        Flow Cytometry
Storage:               2-8°C and protected from Light. Do not freeze
Formulation:      Phosphate-buffered saline, pH 7.2, containing 0.09% sodium azide and 0.2% BSA (BSA Country of Origin USA).
REFERENCES
Favaloro EJ, et al. 1987. Dis Markers. 5(4):215-225
Nakamura Y, et al. 1994. Blood. 83(5):1442-3
Freeman SD, et al. 1995. Blood. 85(8):2005-2012
Walter RB, et al. 2007. Traffic. 9(2):267-279
This product is intended for in vitro diagnostic use to identify human cells expressing CD33 antigen molecules in countries where the regulatory approval has been obtained from the local regulatory authorities. 
1cFluor® BYG610 is a tandem dye made with R-PE. Caution: Tandem dyes may show changes in their emission spectra with prolonged exposure to light or fixatives.
Shipping
Price calculated at checkout.