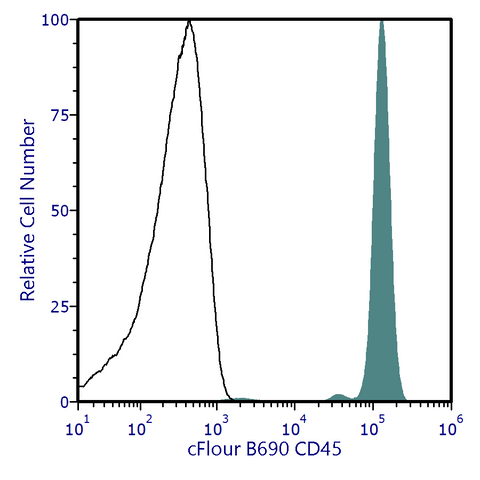 cFluor® B690 Anti-Human CD45 (2D1)
SKU R7-11010
Description
Description
The CD45 monoclonal antibody binds to isoforms of human CD45, a 180-240-kDa type I membrane glycoprotein, also known as LCA (leukocyte common antigen). CD45 is the first and prototypic receptor-like protein tyrosine phosphatase that expresses on all human leukocytes. It is absent on mature erythrocytes, platelets, and non-hematopoietic cells. The antibody is conjugated to a fluorophore and purified by affinity chromatography.


PRODUCT DETAILS
Clone:            2D1

Reactivity:      Human
Format:          cFluor® B6901

Isotype:      Mouse IgG1, κ

Test Dilution:        5 μL / test

Application:      Flow Cytometry

Storage:               2-8°C and protected from light. Do not freeze
Formulation:      Phosphate-buffered saline, pH 7.2, containing 0.09% sodium azide and 0.2% BSA (BSA Country of Origin USA).

1cFluor® B690 is a tandem dye made with PerCP. Caution: Tandem dyes may show changes in their emission spectra with prolonged exposure to light or fixatives.
Shipping
Price calculated at checkout.
Shipping
Price calculated at checkout.